Do you want a special and festive dinner?  Roast a duck.  Pineapple complements it beautifully both in terms of taste and visually.

Roasting a duck is simple and the result is a fantastic treat.  The idea of using pineapple with the roast duck comes from the excellent Hungarian cookbook Ünnepi étel (Holiday food) by Mari Lajos.  Serve the duck with simple mashed potatoes.  (Don't forget to remove the string from the legs.)  Enjoy!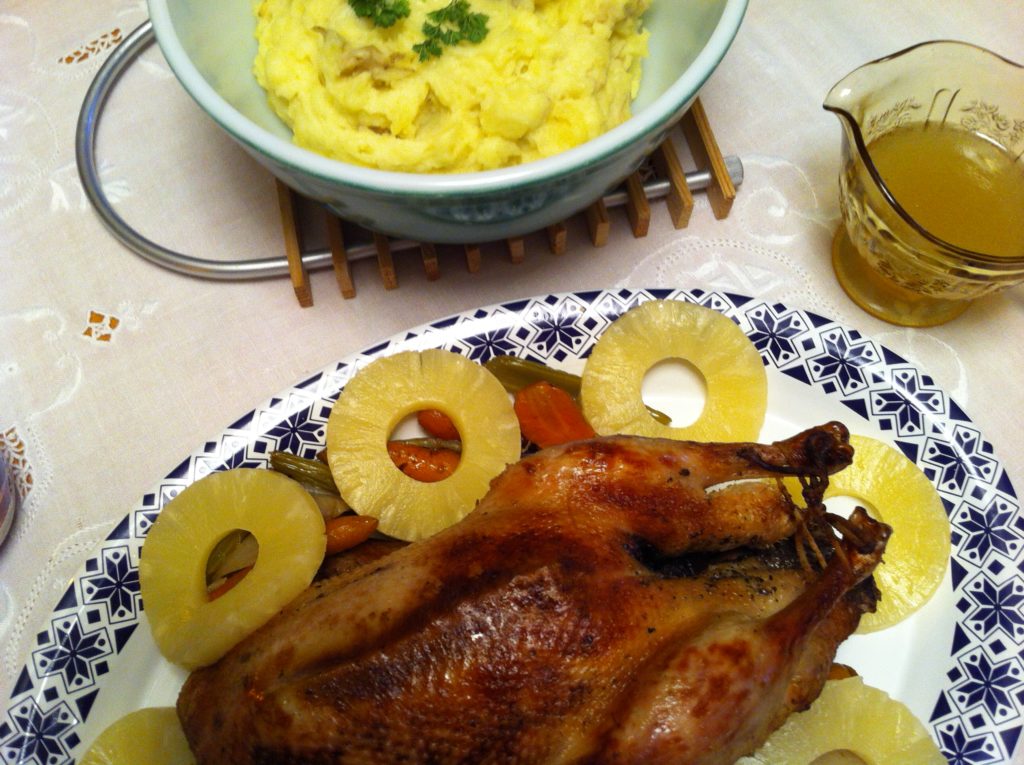 duck – 1 (3-4 pounds)
dried sage – 1 teaspoon
dried thyme – 1 teaspoon
rosemary – 1 small branch
butter – 4 tablespoons
carrots – ½ pound (2-3 bigger)
onion – 1 (bigger)
celeriac – ½ pound
garlic clove – 1
white wine – 0.8 cup
pineapple (canned) – 8 rings
brandy – 3 tablespoons
granulated sugar – 1.1 oz (2.5 tablespoons)
cider vinegar – 1 tablespoon
salt and pepper – to taste
Take the duck out of the refrigerator one hour before roasting.  Heat the oven to 350 ˚F.  Cut the cleaned vegetables into pieces.  Rinse the duck under cool running water and remove the giblets from the cavity.  Pat dry with paper towel, season it well with salt, inside and out, and rub the inside of the cavity with freshly ground pepper, dried sage and thyme, then place the rosemary in it.
Place the duck in a roasting pan (breast side up), tie the legs (remove the string when serving the duck), and fold the wings under.  Melt the butter and pour over it.  Put the vegetables around the bird and pour the wine into the bottom of the pan.  Cover with a lid or aluminum foil, and roast until soft (probably for an hour).  Then uncover the pan, turn the heat up to 425 ˚F, and roast the duck until golden, basting and turning frequently.
In a covered bowl, soak the pineapple in the brandy.
Place the roasted duck on a serving platter, and keep it warm (cover it with aluminum foil).  Pour the fat from the pan through a sieve.
For the sauce, in a small saucepan, caramelize the sugar, add the vinegar, 6 tablespoons of pineapple syrup, and the duck fat.  Cook on high heat until it reduces to half.
Arrange the brandy soaked pineapple around the duck on a serving platter, pour some sauce over it.  Serve the rest of the sauce separately in a small bowl.  Enough for 6.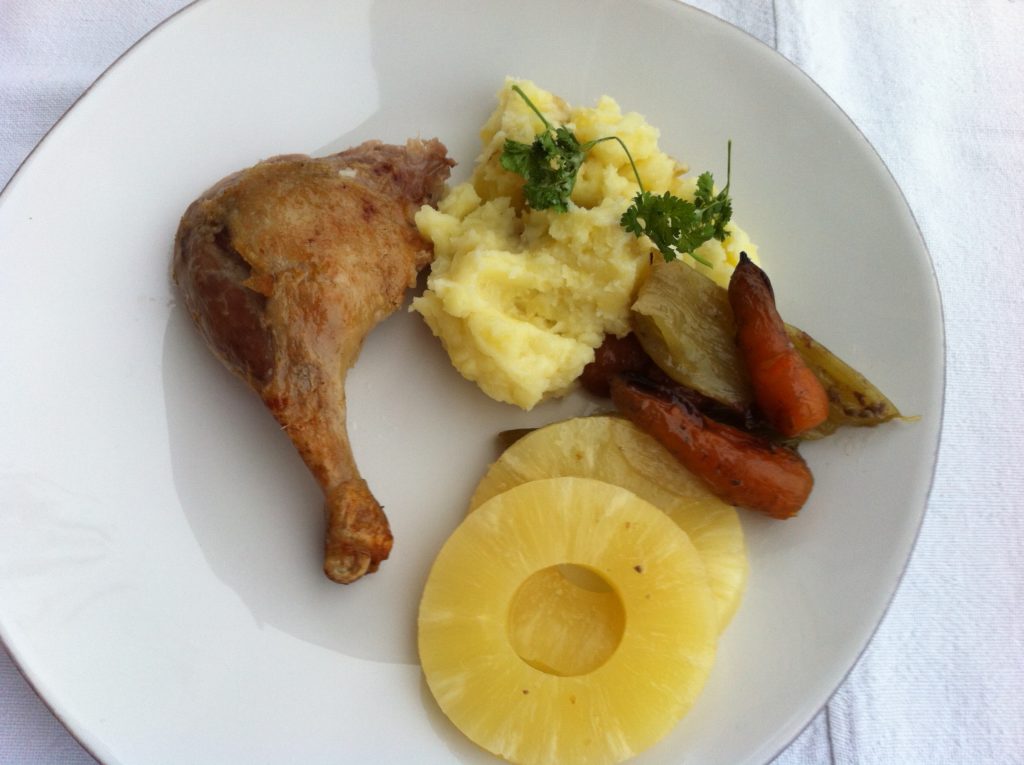 ­­­
Különleges és ünnepi vacsorát szeretnél?  Készíts egészben sült kacsát.  Nagyon egyszerű az egész, és az eredmény fantasztikus.
Az ananászos sült kacsa receptjét Lajos Mari Ünnepi étel című kitűnő szakácskönyvéből vettem.  Az ananász remek kiegészítője a kacsasültnek ízben és látványban egyaránt.  Köretként egyszerű burgonyapürét javaslok.  Jó étvágyat!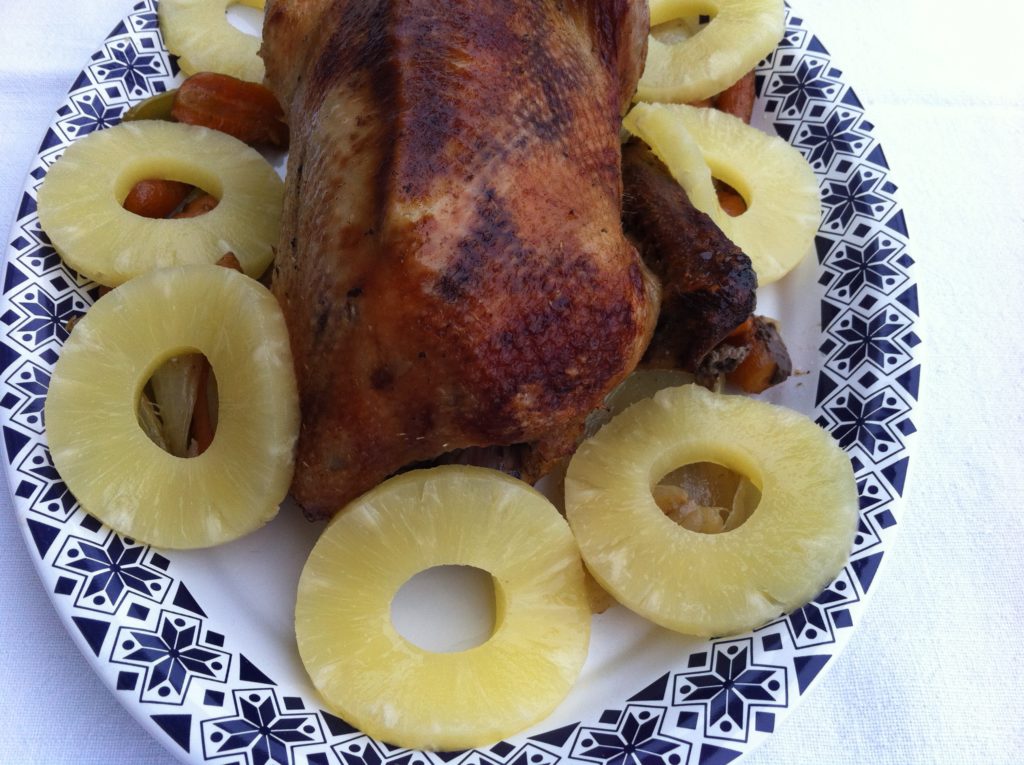 pecsenyekacsa – 1 (1,5-2 kg-os)
rozmaring – 1 ágacska
szárított zsálya – 1 teáskanál
szárított kakukkfű – 1 teáskanál
vaj – 50 g
sárgarépa – 200 g
hagyma – 1 nagy fej
zellergyökér – 100 g
fokhagyma – 1 gerezd
fehérbor – 2 dl
ananászkarika (konzerv) – 8
konyak – 0,5 dl
kristálycukor – 30 g
borecet – 1 evőkanál
só, bors – ízlés szerint
A kacsát egy órával a sütés előtt kivesszük a hűtőből.  A sütőt előmelegitjük 180 ˚C-ra.  A megtisztított zöldségeket felaprózzuk.  A kacsát megmossuk, papírtörülközővel kicsit felitatjuk róla a vizet, kívül-belü jól besózzuk, a hasüregét bedörzsöljük őrölt feketeborssal, zsályával, kakukkfűvel, és beletesszük a rozmaringot.
A kacsát mellel fölfelé egy tűzálló tálba fektetjük, a lábakat megkötözzük (tálaláskor eltávolítjuk a zsineget), a szárnyvégeket aláhajtjuk.  Megolvasztjuk a vajat, meglocsoljuk vele a kacsát.  Mellétesszük a zöldségeket, aláöntjük a bort.  Lefedjük (alufólia is megfelel), és a sütőben puhára pároljuk (kb. egy óra).  Majd fedő nélkül, erős tűzön (220 ˚C-on) pirosra sütjük, közben saját levével locsolgatjuk és többször megfordítjuk.
A lecsepegtetett ananászt egy tálkában meglocsoljuk konyakkal, lefedjük.
A megsült kacsát tálra tesszük, melegen tartjuk.  A pecsenyelét leszűrjük (zsírtalanítjuk).
Egy kis lábasban elkészítjük a mártást: aranybarnára pirítjuk a cukrot, hozzáadjuk az ecetet, 1 dl ananászlét, a pecsenyelét, és erős tűzön a felére beforraljuk.
A kacsát körberakjuk az ananászkarikákkal, meglocsoljuk egy kevés mártással, a többit kölön edénykében tálaljuk.  A recept 6 személyre szól.