Earlier on this blog, in the introduction of my cauliflower soup recipe, I mentioned that once I read advice about not cooking soup for a big crowd because it would generate too many (extra) dishes that would need to be cleaned.  A few weeks ago, I purposely went against this advice because I wanted a soup as the first course for the lunch that Steve and I were hosting for my lovely mother-in-law's 88th birthday.

As the first step in a search for a simple but nourishing and tasty soup, I opened Anna Jones's book A modern way to cook.  And there it was: the soup, which serves eight.  I needed to only double the amount of ingredients, and I had a perfect recipe for 13 people.  I cooked the soup in my biggest pot, then I transferred it into two smaller pots, so that the self-serving would be easier.  The soup was a great success and there was some leftover that I froze for later.
This soup is so good, and so exciting, and also has a beautiful color!  Anna says that it could be used as the base for different meals, served stew-style with some cannellini beans, with different toppings (breadcrumbs, broken corn tortillas, basil oil, lime zest, spoonful of yogurt) with good bread, or served on brown rice.  We tried this latter one – it's wonderful.
leek – 1
red onion – 1
carrots – 2
celery –  2 sticks
olive oil or coconut oil – a little
sweet potatoes – 2 medium size
butternut squash – 1 medium size
red chili flakes – a good pinch
vegetable stock cube – 1
Wash and finely slice the leek, clean and finely slice the onion, carrot, and celery.  In a large pan over medium heat, warm a little oil, add the vegetables and cook for 10-15 minutes, until soft.
Meanwhile, peel the sweet potatoes and chop into large pieces.  Cut the squash in half, deseed it, peel if you like, and chop into similar-size chunks as the sweet potatoes.  Add them to the softened vegetables together with 2 liters of hot water and the vegetable stock cube.  Cover, bring to a boil, then lower the heat and simmer for about 40 minutes, until the vegetables are soft and falling apart.  Use an immersion blender to blend the soup.  You can also leave some chunks of vegetables in it.  The soup serves 8 and freezes well.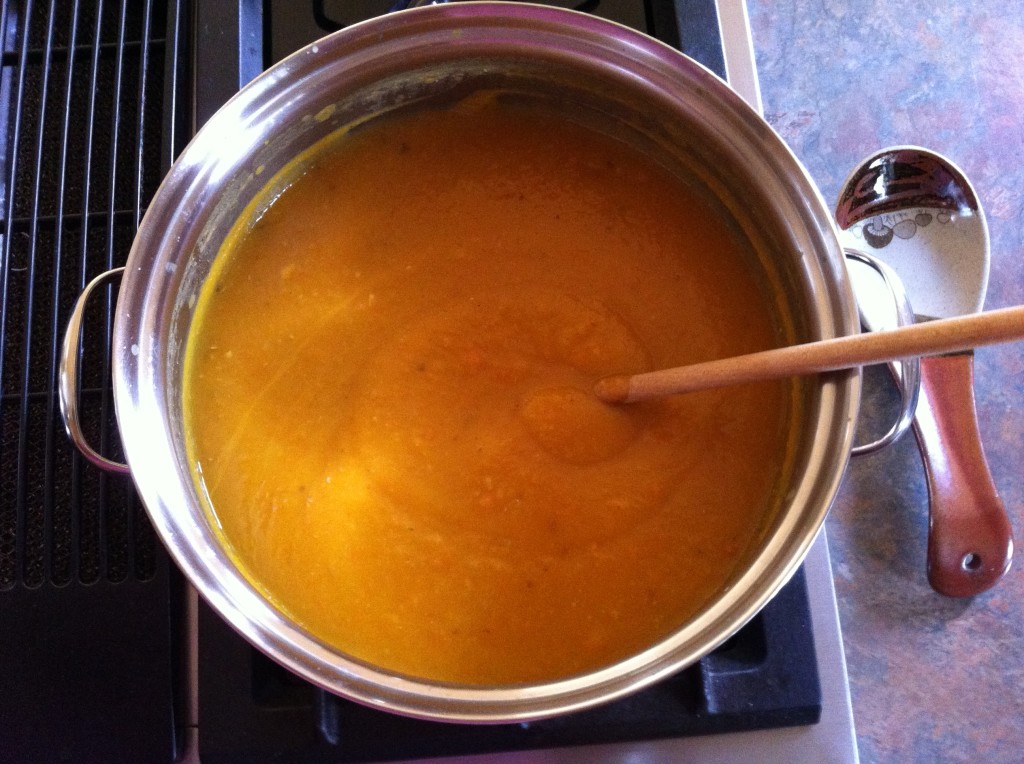 A karfiolleves receptem bevezetőjében korábban már írtam arról, hogy valahol azt olvastam, sose tálaljunk levest nagyszámú vendégseregnek, mert túl sok lesz a mosogatnivaló.  Néhány hete, e jó tanáccsal ellentétben, mégis úgy döntöttem, hogy az anyósom 88. születésnapjára tervezett ünnepi ebéden – aminek Steve és jómagam voltunk a házigazdái – leves lesz az első fogás.  Egy egyszerű, de tápláló és ízletes levest akartam főzni, s a megfelelő recept után kutatva elsőként Anna Jones A modern way to cook című szakácskönyvét lapoztam fel.  És igen, ott volt a recept, ami nyolc személy számára szól.  Csak duplájára kellett vennem a hozzávalókat, s lett egy tökéletes receptem, ami alapján elegendő mennyiséget főzhettem 13 személynek.  A legeslegnagyobb fazekamat vettem elő, abban főztem, de aztán a kész levest átkanalaztam két kisebb fazékba, hogy a vendégek könnyebben szolgálhassák ki magukat.  A levesnek nagy sikere volt, de maradt is belőle, amit később lefagyasztottam.
Ez a krémleves annyira jó, annyira izgalmas, rááadásul szép a színe is!  Anna azt írja, hogy különböző ételek alapjaként is szolgálhat: tálalhatjuk pörkölt-stílusban főtt fehérbabbal keverve, különféle feltéttel (pirított kenyérkockával, kukoricából készült tortilla darabkákkal, bazsalikom olajjal, reszelt lime-héjjal, egy kanál jogurttal); finom egy szelet jófajta kenyérrel vagy főtt barna rizs tetején.  Ez utóbbit mi is kipróbáltuk Stevevel, s mindkettőnknek nagyon ízlett.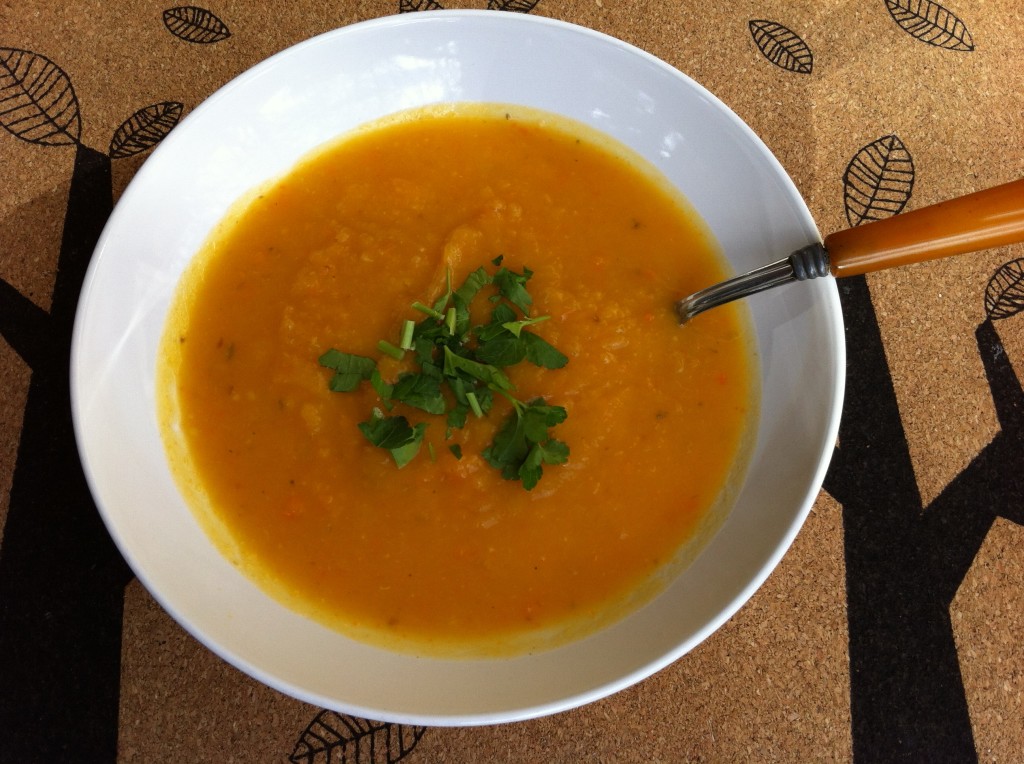 póréhagyma – 1
lilahagyma – 1
sárgarépa – 2
zeller –  2 szár
olíva olaj vagy kókuszolaj – egy kicsi
édesburgonya – 2 közepes méretű
sütőtök – 1 közepes méretű
pirospaprika pehely – egy jó csipet
zöldségleves kocka – 1
A póréhagymát megmossuk és a sárgarépával együtt vékonyan felkarikázzuk.  A megtisztított hagymát és a zellerszárat felaprózzuk.  Egy nagy fazékban felforrósítjuk az olajat, rádobjuk a zöldségeket, s 10-15 percig fonnyasztjuk, amíg kicsit megpuhulnak.
Közben megtisztítjuk az édesburgonyát és nagyobb kockákra vágjuk.  A sütőtököt félbe vágjuk, kiszedjük a magját, s a burgonyához hasonlóan aprítjuk fel.  Mindezt hozzáadjuk a megpuhított zöldségekhez, felöntjük 2 liter forró vízzel és belemorzsoljuk a zöldségleves kockát.  Felforraljuk, majd fedő alatt, mérsékelt tűzön vajpuhára főzzük.  Ezután botmixerrel óvatosan az egészet simára turmixoljuk, de hagyhatunk benne darabos zöldséget is.  A leves nagyon jól tűri a fagyasztást.  A recept 8 személyre szól.