My trusted source for something delicious is definitely Anna Jones's brilliant book, A modern way to eat.  This time I chose a cake/bread that celebrates her favorite ingredient: coconut.

The cake is loaded with coconut products: coconut milk, coconut sugar (which is produced from the sap of cut flower buds of the coconut palm), dried coconut, and coconut oil.  All of these make the cake very special and uniquely tasty.  If there is any leftover after a few days, it's excellent when toasted and served with good jam or nut butter.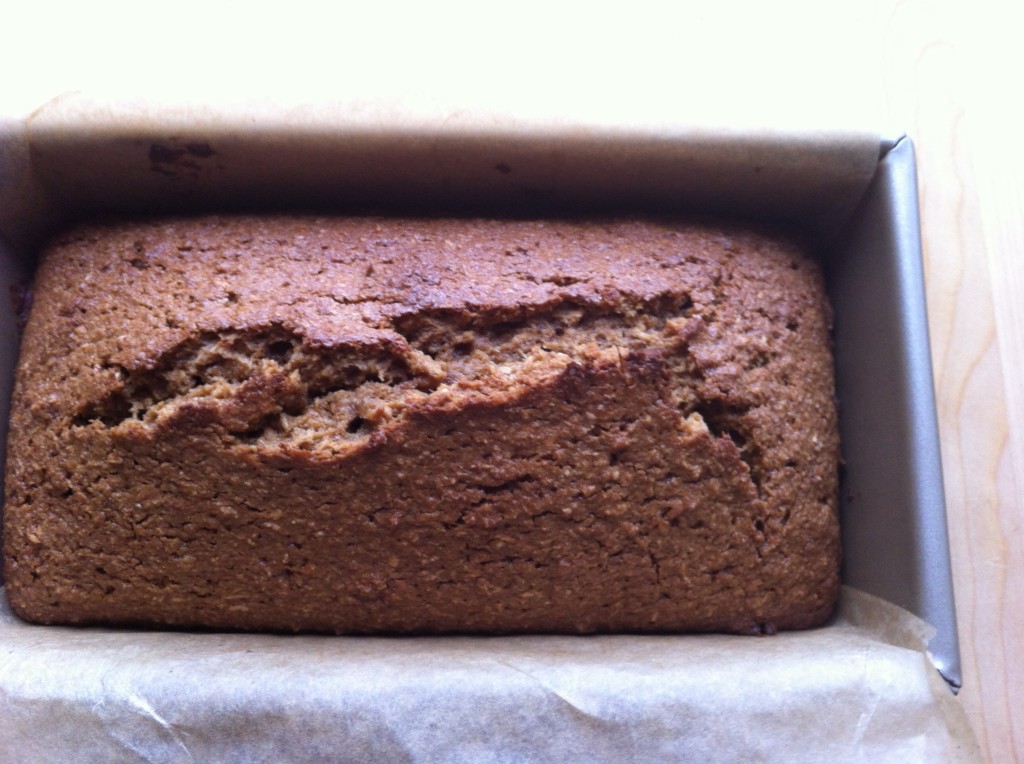 eggs – 2
coconut milk – 200 ml (7/8 cup)
seeds from 1 vanilla pod (or 20 g vanilla sugar)
light spelt flour – 150 g (1 cup)
coconut sugar (or brown sugar) – 200 g (scant 1 cup)
baking powder – ½ teaspoon
dried coconut – 50 g (⅔ cup)
almond flour – 50 g (⅔ cup)
coconut oil, melted and cooled – 50 g (3½ tablespoons)
Preheat the oven to 180°C (350°F).  Butter and line with parchment paper a 1-pound loaf pan.
Whisk together the eggs, milk, and vanilla seeds (or vanilla sugar) in a bowl.  Stir together the spelt flour, sugar, baking powder, dried coconut, and almond flour in a large bowl.  Make a well in the center and gradually stir in the egg mixture, then the melted coconut oil.  Mix until smooth.
Spoon the batter into the prepared pan.  Bake for about 50-60 minutes, until a toothpick inserted into the center comes out clean.  Cool in the pan for a few minutes, then turn the loaf out onto a wire rack and cool completely.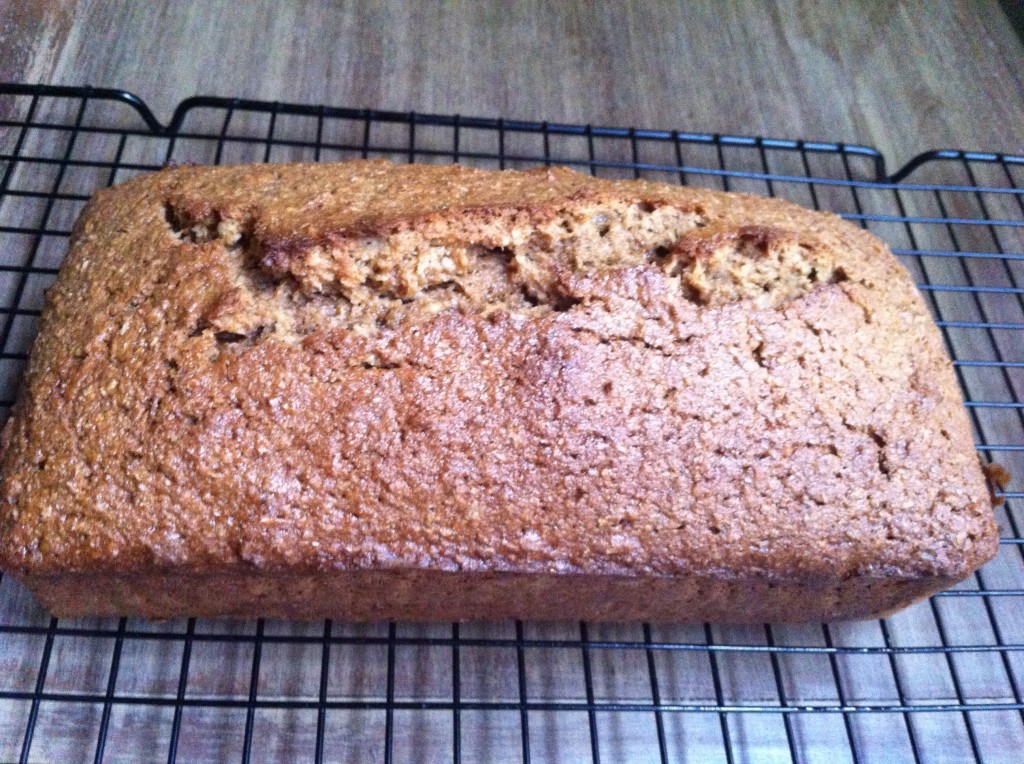 Ha valami finomat szeretnék sütni vagy főzni, Anna Jones A modern way to eat című zseniális szakácskönyve mindig megbízható forrásként szolgál.  Ezúttal kókuszos termékekkel teli torta receptjét mutatom be, ami nem is igazán torta, inkább édes kenyér.  Van benne kókusztej, kókuszcukor, kókuszreszelék és kókuszolaj – Anna kedvenc hozzávalói.  A kókuszcukor a kókusz pálma bimbózó virágának nedvéből készül.  Esetleg barnacukorral is helyettesíthetjük.  Ez a torta különlegesen finom, s ha netán pár nap múlva még lenne belőle, pirítósnak is kitűnő, főleg jófajta lekvárral vagy mandulavajjal.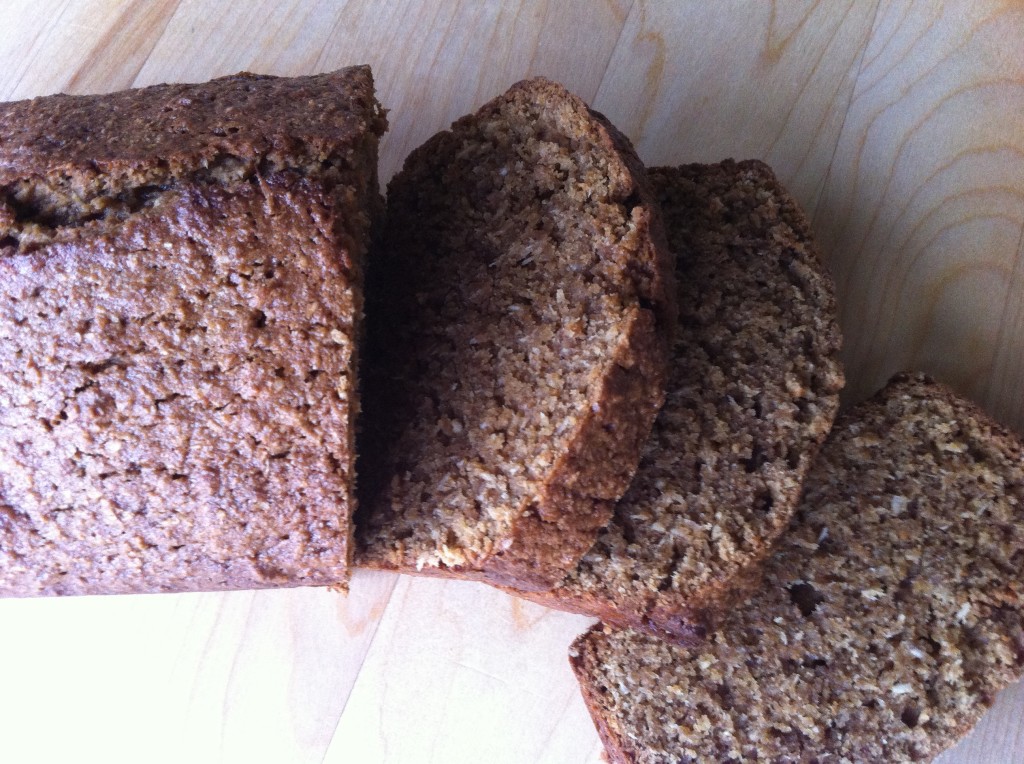 tojás – 2
kókusztej – 200 ml
1 vaníliarúd kikapart magjai (vagy 1 csomag vaníliás cukor)
tönkölybúza liszt – 150 g
kókuszcukor (vagy barnacukor) – 200 g
sütőpor – ½ teáskanál
kókuszreszelék – 50 g
mandulaliszt – 50 g
kókuszolaj, olvasztva és kihűtve – 50 g
A sütőt előmelegítjük 180°C-ra.  Kivajazunk és sütőpapírral kibélelünk egy hasáb formájú, kb. 1-1,2 liter űrtartalmú sütőformát.
Egy tálban simára keverjük a tojásokat, a tejet és a vanília rúd kikapart magjait (vagy a vaníliás cukrot).  Egy másik, nagyobb tálban a lisztet elgyítjük a cukorral, a sütőporral, a kókuszreszelékkel és a mandulaliszttel.  A lisztkeverék közepébe mélyedést készítünk, beleöntjük a tojáskeveréket, majd az olvasztott kókuszolajat.  Simára keverjük és a sütőformába kanalazzuk.
Kb. 50-60 percig sütjük, s tűpróbával ellenőrizzük, átsült-e.  Ha kész, néhány percig a formában pihentetjük, majd egy rácsra borítjuk, hogy teljesen kihűljön.