Both Steve and I love to eat fish, and despite this, I still don't cook it often enough.  The reason might be that I didn't grow up close to a big river or sea – we have only a little creek in my village – and cooks at the time of my upbringing prepared maybe frozen fish fillet a few times a year by deep frying it, so there wasn't a great history of cooking and eating fish.  However, now I live close to an ocean in a city with a great fish tradition, but dealing with fish in my own kitchen is still quite poor.  It's time to embark on the discovery of cooking fish.  I am starting with a simple recipe.

As I mentioned earlier on this blog, Donna Hay's book The Instant Cook provides easy and quick recipes.  This fish recipe is also from this cookbook and can be prepared without a headache, even for those of us without good fish cooking experience.  Make sure your fish is firm and of good quality.
potatoes – 1 kg (2 lb)
olive oil – 1 tablespoon
white fish fillet – 4 pieces, 200 g (7 oz) each
grated lemon rind – 1 teaspoon
sea salt and ground black pepper – to taste
Preheat the oven to 220 °C (425 °F).  Place a baking dish in the oven for 10 minutes to heat.
Meanwhile, wash and scrub the potatoes, and slice them thinly.  Take the hot baking dish out of the oven and line with parchment paper.  Spread the potato slices on it, sprinkle with the oil and salt, and bake for 20 minutes.
Sprinkle the fish with the lemon rind, salt, and pepper.  Take the dish out of the oven again and place the fish on top of the potatoes.  Return it to the oven, and bake for 10-15 minutes more.  Serves 4.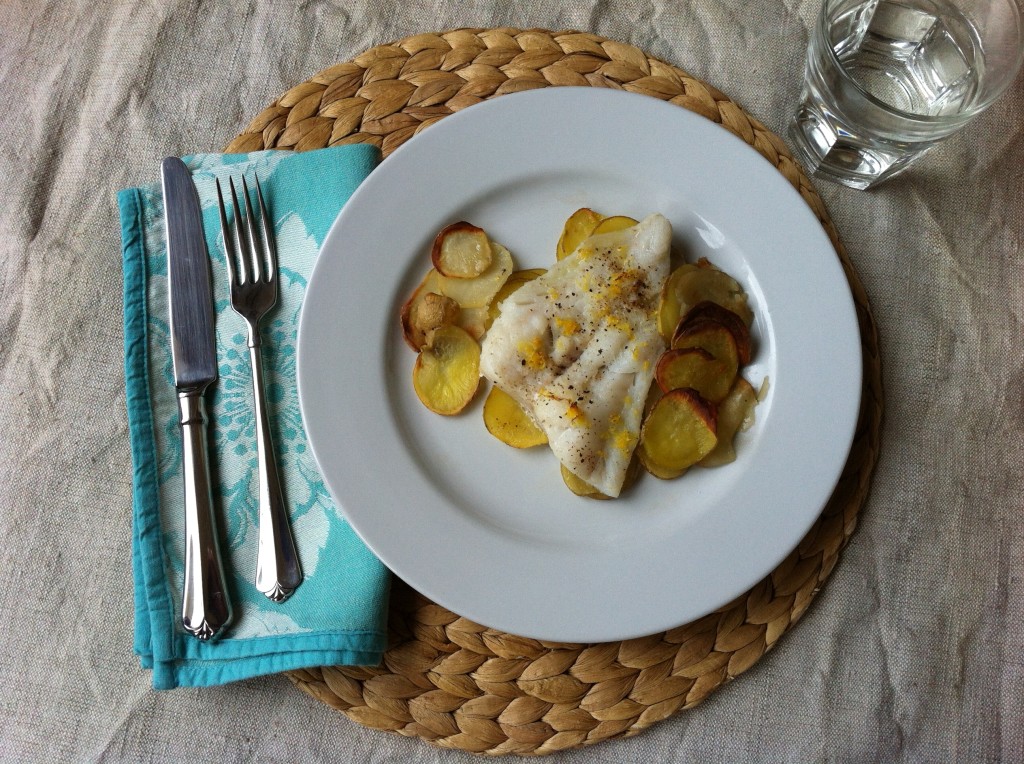 ­­­Szeretjük a halat, Steve és én is, ennek ellenére mégsem főzök halat gyakorta.  Talán amiatt, mert nem nőttem fel nagy folyó vagy tenger mellett – nálunk a szülőfalumban csak egy kis patakocska van – s gyerekkoromban mifelénk nem volt hagyománya a halfőzésnek és halfogyasztásnak, évente csak néhányszor rántottak ki fagyasztott halfilét a falu asszonyai.  Most azonban közel élek az óceánhoz egy olyan városban, ahol nagy tradíciója van mindennek, ami hallal kapcsolatos, de a saját konyhámban bizony elég gyenge a halkultúra.  Itt az ideje, hogy felfedezzem a halfőzés titkait.  Egy nagyon egyszerű recepttel kezdem.
Ahogy már korábban említettem ezen a blogon, Donna Hay The Instant Cook című könyve egyszerű és könnyen elkészíthető receptek tárháza.  Ez a halrecept is innen való.  Nincs vele nehéz dolgunk, még azoknak sem, akiknek nincs nagy gyakorlata halételek főzésében.  Ennél a receptnél fontos, hogy olyan jó minőségű halat használjunk, ami nem fő könnyen szét.
burgonya – 1 kg
olíva olaj – 1 evőkanál
fehér halfilé – 4, egyenként 200 g-os darab
reszelt citromhéj – 1 teáskanál
tengeri só és őrölt feketebors – ízlés szerint
A sütőt előmelegítjük 220 °C-ra.  Az üres sütőedényt 10 percre berakjuk a forró sütőbe.
Közben megmossuk és tisztára kaparjuk a burgonyát, majd vékonyan felszeleteljük.  Az edényt kivesszük a sütőből, s kibéleljük sütőpapírral.  Ráhelyezzük a burgonyát, megpötyögtetjük az olajjal és megsózzuk.  20 percig sütjük.
A halszeleteket megszórjuk a reszelt citromhéjjal, ízlés szerint sózzuk, borsozzuk.  Az edényt ismét kivesszük a sütőből és a burgonya tetejére helyezzük a halat.  Visszatesszük a sütőbe, s  további 10-15 percig sütjük.  A recept 4 személyre szól.