In these days, you can often read that you should be eating baked goods made with whole wheat flour.  Yes, but sometimes you just need a piece of delicious white bread.

This simple sandwich bread recipe comes form the British visual step-by-step cookbook Baking – one of my trusted sources.  You cannot go wrong with this bread, which is perfect for toast.  The steps are easy – follow along.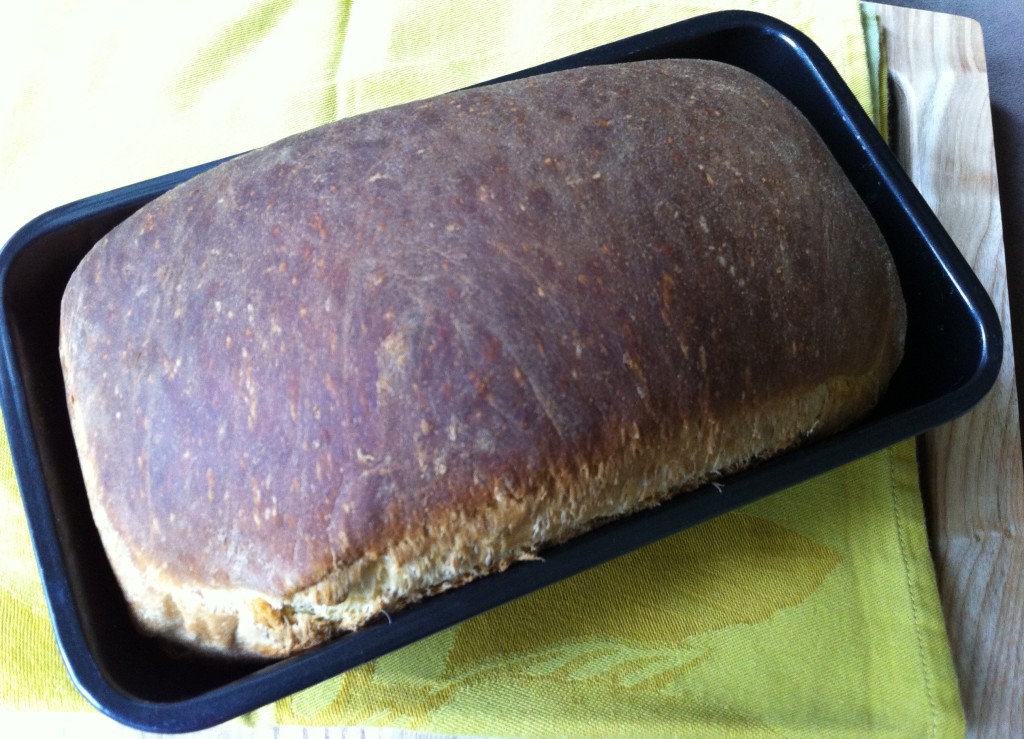 egg – 1
egg yolk – 1
lukewarm water – 1 cup (250 ml)
white bread flower – 3½ cups (450 g)
salt – 1½ teaspoons
granulated sugar – 2 teaspoons
active dry yeast – 1 teaspoon
butter, diced – 2 tablespoons
oil for greasing
Put the egg and egg yolk in a glass measuring cup and beat with a fork.  Stir in enough lukewarm water to make up to 1¼  cups (300 ml).
Combine the flour with the salt, sugar, and yeast in a large bowl.  Use a pastry blender (or your fingertips) to cut the butter into the flour until it resembles coarse meal.  Make a well in the center, add the egg mixture, make a dough, then turn it out to a lightly floured work surface.  Knead by hand (or with a machine) until smooth, for about 10 minutes, then form a ball.  Oil another bowl, place the dough in it, cover with a clean kitchen towel, and let rise in a warm place for about 1 hour.  It should double in volume.
Preheat the oven to 425 °F (220 °C).  Oil a 9×5×3-in (23 cm×13 cm ×8 cm) loaf pan.
Turn out the dough to a lightly floured work surface and knead for 1 minute.  Shape it to the length of the pan and three times the width.  Fold the dough in thirds width-wise, then place it in the baking pan with the fold on the bottom.  Leave it in a warm place covered with a clean kitchen towel for 30 minutes, until the dough rises above the pan.  Bake for 30 minutes or until golden brown.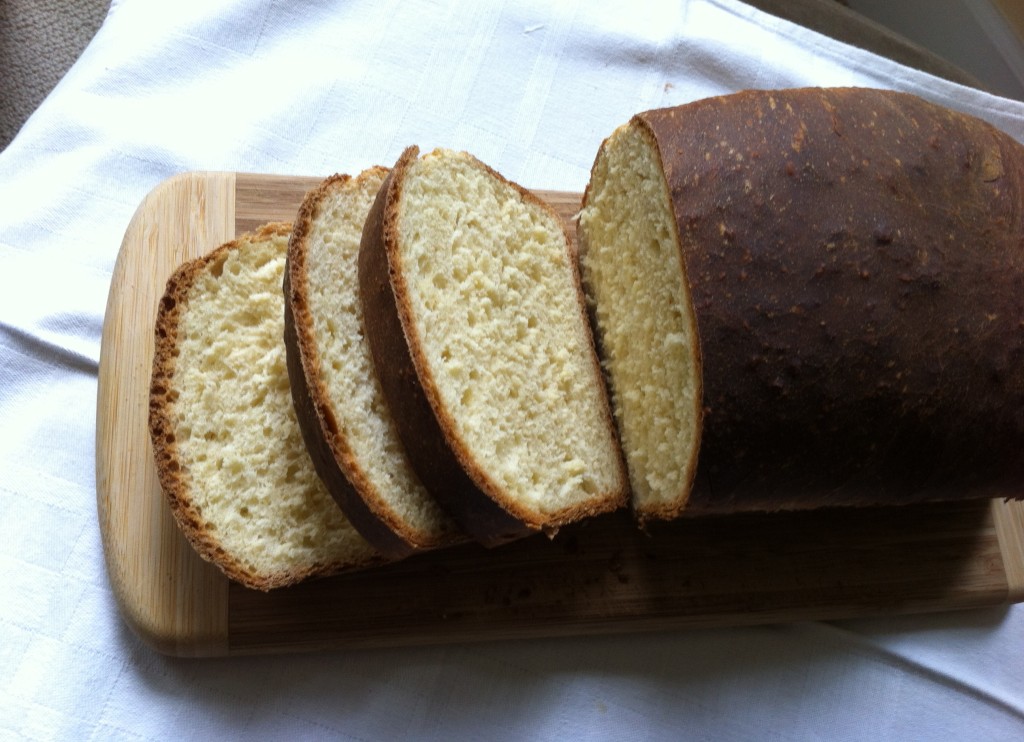 Manapság gyakran olvashatjuk, hogy fehér liszt helyett teljes kiőrlésű liszttel sütött péksüteményt és kenyeret ajánlatos enni.  Nos, igen, néha azonban kell egy szelet finom fehér kenyér.  Ez az egyszerű szendvicskenyér recept egy számomra mindenképp megbízható forrásból, a britt Baking című szakácskönyvből származik, amely a munkamenetet képekkel illusztrálva, lépésről lépésre mutatja be.  Igazából nem is lehet elrontani ezt a főleg pirítósnak remek kenyeret.  Csak követni kell az egyszerű lépéseket.
tojás – 1
tojássárgája – 1
langyos víz – 250 ml
fehér kenyérliszt – 450 g
só – 1½ teáskanál
kristálycukor – 2 teáskanál
aktív száraz élesztő – 1 teáskanál
vaj – 2 evőkanál
olaj a formához
A tojást és a tojássárgáját egy üveg mérőedényben villával felverjük.  Annyi langyos vizet öntünk hozzá, hogy 300 ml tojáskeveréket kapjunk.
A lisztet egy nagy tálban elvegyítjük a sóval, cukorral és az élesztővel.  Belevagdaljuk a vajat és elmorzsoljuk a lisztkeverékkel.  A közepébe egy mélyedést formálunk, beleöntjük a tojáskeveréket, tésztát gyúrunk, majd kifordítjuk egy enyhén lisztezett gyúródeszkára.  Kézzel (vagy robotgéppel) kb. 10 perc alatt simára dagasztjuk, s cipót formáluk belőle.  Egy másik tálat kiolajozunk, beletesszük a tésztát, tiszta konyharuhával letakarjuk és meleg helyen kb. 1 óra alatt duplájára kelesztjük.
A sütőt előmelegítjük 220 °C-ra.  Kiolajozunk egy 23 cm×13 cm ×8 cm méretű tepsit.
A megkelt tésztát lisztezett gyúródeszkán kicsit átgyúrjuk (1 perc).  Téglalapot formálunk belőle – hossza a tepsi hossza, szélessége a tepsi szélességének háromszorosa legyen.  Szélességében háromba hajtjuk, aztán a tepsibe tesszük úgy, hogy a hajtás kerüljön alulra.  Konyharuhával letakarva meleg helyen hagyjuk további 30 percig, amíg a tészta a tepsi pereme fölé nem emelkedik.  Kb. 30 perc alatt aranybarnára sütjük.