This is the first recipe I tried from A Cook's Book, Nigel Slater's new cookbook, published in October of 2021, which has over 200 recipes. It was a Christmas present from my husband, ordered from England, so that I can have the measurements in metric.

I love cauliflower – "a pale beauty," according to Nigel – and I love soups! So, it's not a surprise that from the many exciting recipes that I'm planning to try from this essential book I chose this creamy soup as the first one.
I note, that served with a cheesy sourdough toast this soup is heavenly.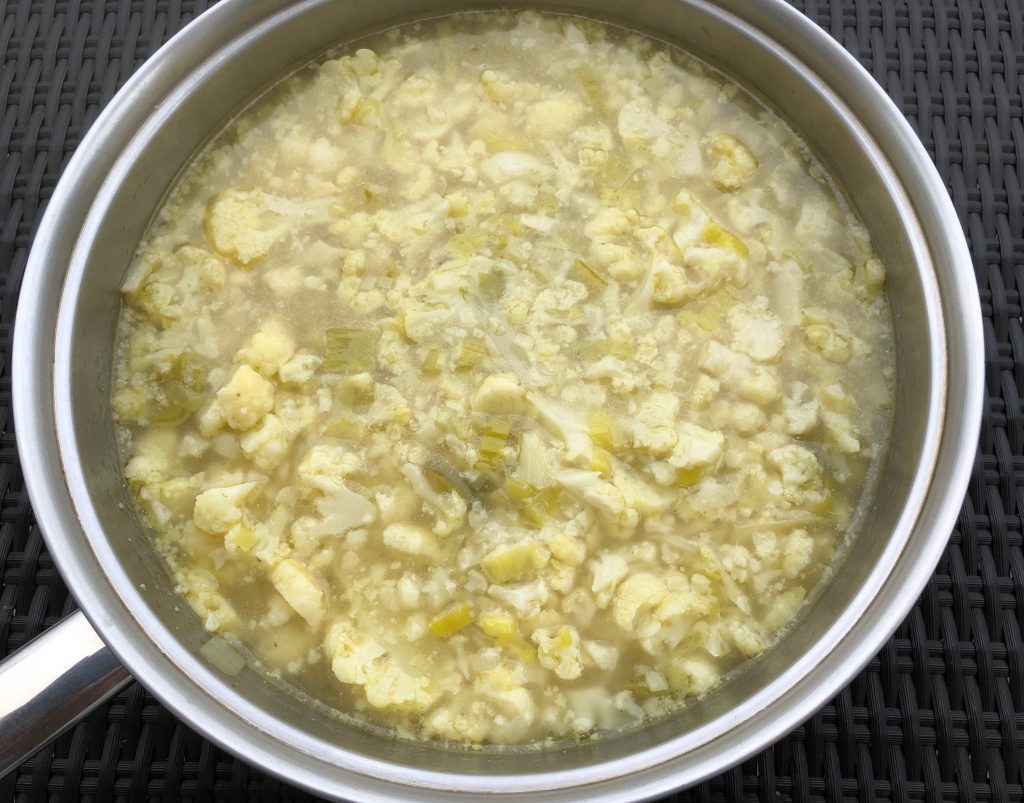 butter – 30 g + extra for the toast
olive oil – 2 tablespoons
leeks – 3, medium
cauliflower – 1 kg (1 medium head)
vegetable stock – 1 liter
bay leaves – 2
parsley leaves – a good handful
salt – a little
sourdough bread – 4 slices
cheese (any melting type) – 100 g
ground black pepper – a little
First clean the leeks. Rinse under cold water, cut off the roots and the dark green ends, and then cut the leeks lengthwise. Chop the white and light green parts crosswise. Rinse in a bowl of water, and then scoop out with a sieve. Trim the cauliflower, break it into florets, and chop roughly.
Heat the butter with the olive oil in a large stockpot over medium heat. Add the leeks, cover, and cook, stirring regularly. When the leeks are soft, add the cauliflower and stir briefly. Pour in the vegetable stock and bring to a boil. Add the bay leaves and a little salt, lower the heat, and simmer until the cauliflower is soft (15-20 minutes). Remove the bay leaves and discard them. Use an immersion blender to carefully blend half of the soup. Add the chopped parsley leaves to the other half, and then mix the two together. Season with a little freshly ground black pepper.
Spread the sourdough slices with a little butter. Toast them on one side in a grill pan, then flip them and cover the top with slices of cheese. Grill until the cheese is melted. Serve with the soup. Enough for 4.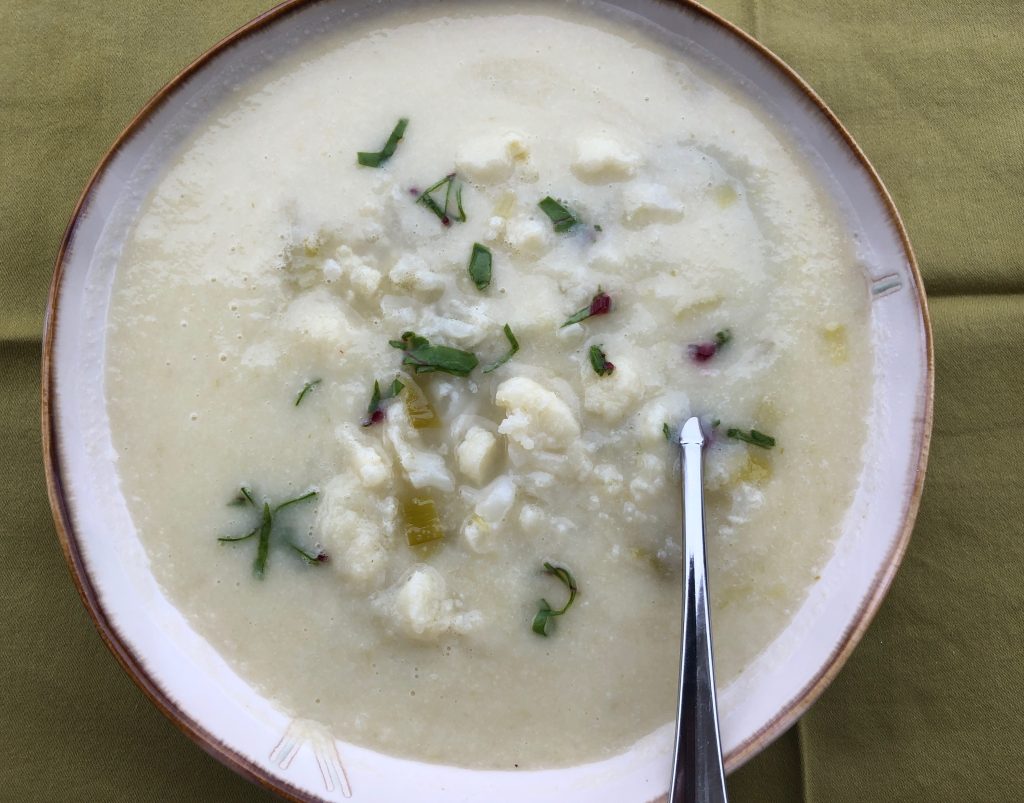 Ez az első étel, amit Nigel Slater legújabb szakácskönyvéből főztem. A 2021 októberében megjelent könyv több mint 200 receptet tartalmaz. Steve egyenesen Angliából rendelte meg a számomra karácsonyi ajándékként (tudta, hogy szeretem, ha a hozzávalók mennyisége metrikus egységekben van feltüntetve).
Imádom a karfiolt – Nigel szerint a karfiol "egyfajta sápadt szépség" – és imádom a leveseket. Így aztán nem meglepő, hogy a sok izgalmas recept közül elsőként épp ezt a krémlevest választottam. Azt tervezem, hogy majd sok-sok receptet próbálok ebből a szakácskönyvből.
Megjegyzem, a kovászos kenyérrel készült sajtos pirítóssal mennyei ez a leves!
vaj – 30 g, és egy kevés a pirítóshoz
olíva olaj – 2 evőkanál
póréhagyma – 3 közepes méretű
karfiol – 1 kg
zöldség alaplé – 1 liter
babérlevél – 2
petrezselyem zöldje – egy maroknyi
só – egy kevés
kovászos kenyér – 4 karéj
sajt (bármilyen könnyen olvadó) – 100 g
frissen őrölt feketebors – ízlés szerint
Először megtisztítjuk a póréhagymát. Hideg víz alatt lemossuk, majd levágjuk a gyökereket és a sötétzöld végeket. Ezután hosszában kéttévágjuk, majd a megmaradt fehér és világoszöld részeket keresztben felaprítjuk. Egy tál vízben leöblítjük, majd szitávan kikanalazzuk. A megmosott és leveleitől megtisztított karfiolt rózsáira szedjük és durvára vágjuk.
Egy nagy fazékban, közepes lángon, felmelegítjuk a vajat és az olajat. Rádobjuk a póréhagymát és fedő alatt addig főzzük, amíg a hagyma megpuhul. Néha keverjük meg és vigyázzunk, ne barnuljon meg. Amikor a póré megpuhult, hozzákeverjük a karfiolt. Felöntjük a zöldségalaplével, és felforraljuk. Aztán hozzáadjuk a babérleveleket és egy kevés sót. Mérsékeljük a lángot, és addig fózzük, amíg a karfiol puha nem lesz (15-20 perc). Ha kész,, kidobjuk belőle a babérleveleket és botmixerrel óvatosan simára turmixoljuk a leves felét. A maradékhoz hozzákeverjük az apróra vágott petrezselymet, majd a kétféle állagú levest összekeverjük. Kevés frissen őrölt feketeborssal ízesítjük.
A kenyérszeleteket enyhén megvajazzuk. Az egyik oldalukat grillserpenyőben megpirítjuk, majd megfordítjuk, tetejükre sajtszeletet teszünk. Addig grillezzük, amig a sajt elolvad. A leves mellé tálaljuk. A recept 4 személyre szól.