I love a good soup.  This is one of my favorites; it uses kohlrabi – a quite underrated and, in the US, a not very well-known vegetable. Kohlrabi is fantastic in vegetable soup, but it really shines on its own (with the help of some potatoes) in this soup.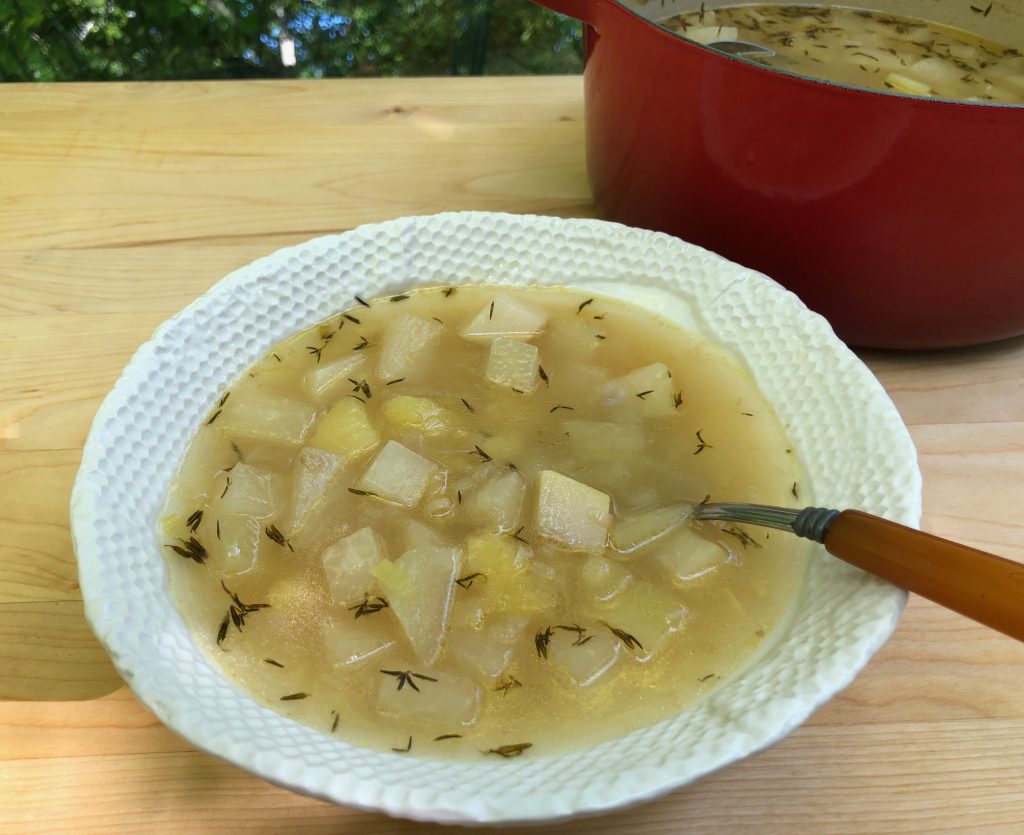 olive oil – 2 tablespoons
leeks, chopped – 1 cup
onion, diced – 1
red pepper flakes – ⅛ teaspoon
dried thyme – ½ teaspoon
potato, diced – 1 cup
kohlrabi – 1 large or 2 small
vegetable or chicken stock – 4 cups
bay leaf – 1-2
salt and pepper – to taste
Chop the leeks, dice the onion, and sauté in oil in a large stockpot with the pepper flakes and the thyme.  Season with salt and pepper.  Meanwhile, dice the potatoes, chop the kohlrabi into cubes, and add both to the pot together with the bay leaf.  Pour in 4 cups of vegetable or chicken stock and cook (covered) until the vegetables are soft.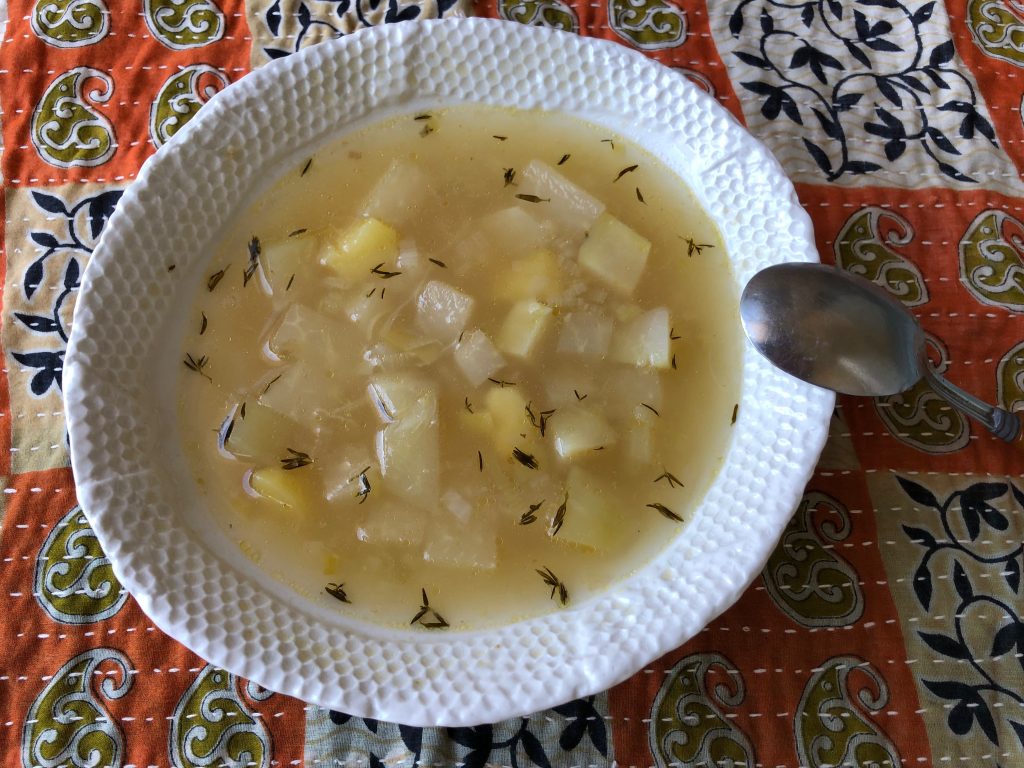 Szeretem a jó leveseket.  Ez a leves az egyik kedvencem.  Karalábé kell hozzá – amit az Egyesült Államokban nem nagyon ismernek – és pár szem burgonya.  A karalábét szeretem zöldséglevesben is, de ebben a levesben főszereplőként (burgonya kíséretében) igazán nagyszerű.
olíva olaj – 2 evőkanál
póréhagyma, aprítva – 1 csészényi
hagyma – 1 közepes fej
szárított bazsalikom – ½ teáskanál
szárított chilipaprika(mag) – ⅛ teáskanál
karalábé – kb. 400 g
burgonya – kb. 200 g
csirke vagy zöldség alaplé – kb. 600 ml
babérlevél – 1-2
só és őrölt feketebors – ízlés szerint
A póréhagymát megtisztítjuk, felkarikázzuk, a hagymát finomra vágjuk.  Egy nagy fazékban felforrósítjuk az olajat, rádobjuk a pórét, a hagymát, megszórjuk szárított bazsalikommal és chilimagokkal (ettől a leves kissé pikáns lesz), és üvegesre pároljuk.  Közben a meghámozott karalébét és burgonyát felkockázzuk, majd a babérlevéllel együtt a hagymához adjuk.  Felöntjük az alaplével, majd fedő alatt, lassú tűzön puhára főzzük.