To continue our Kenyan safari, we were excited to see the world famous pink skies of Lake Nakuru caused by the flight of thousands, or even millions of flamingos.

Day 10: Lake Nakuru National Park
To reach Lake Nakuru, we needed to enter the Great Rift Valley.  When we stopped at the viewpoint, the souvenir sellers descended on us like vultures but fortunately we didn't give them anything to eat.  Just enjoyed the view.
After reaching our destination, we settled into our accommodation (Savora Lion Hill Game Lodge), and then went on a late afternoon game drive.
First, we noticed dead trees in the lake close to the shore.  We learned from our guide, Arif, that the extensive development in the nearby town of Nakuru is causing the water level of the lake to rise and kill many trees.
As we drove around the lake on the well-marked driving tracks, we were eager to see the flamingos.  They were not in sight.  To our great surprise, in one location, we could get out from the safari vehicle and walk in the open towards the lake. We hoped this would result in a successful view of the flamingos.  Soon, the armed ranger instructed us and the other visitors to return to the vehicles.  A large nearby herd of the very unpredictable buffalo could have been a possible threat.  So, no close encounter with the flamingos.  Some show up in my pictures, taken from a good distance, as a thin pink line by the shore.  Plus, July in Kenya is winter – we are south of the Equator – and it's not the correct season for them.  Plus, most have moved – at least temporarily – to other lakes because of the rising water level, which has also affected their food source, algae.
We couldn't allow ourselves to feel disappointed.  On any safari, one shouldn't focus only on a certain animal.  We knew, there was other great wildlife to see.  Besides the buffalo, we saw impala, many species of birds, white rhinos, zebras, and even a jackal.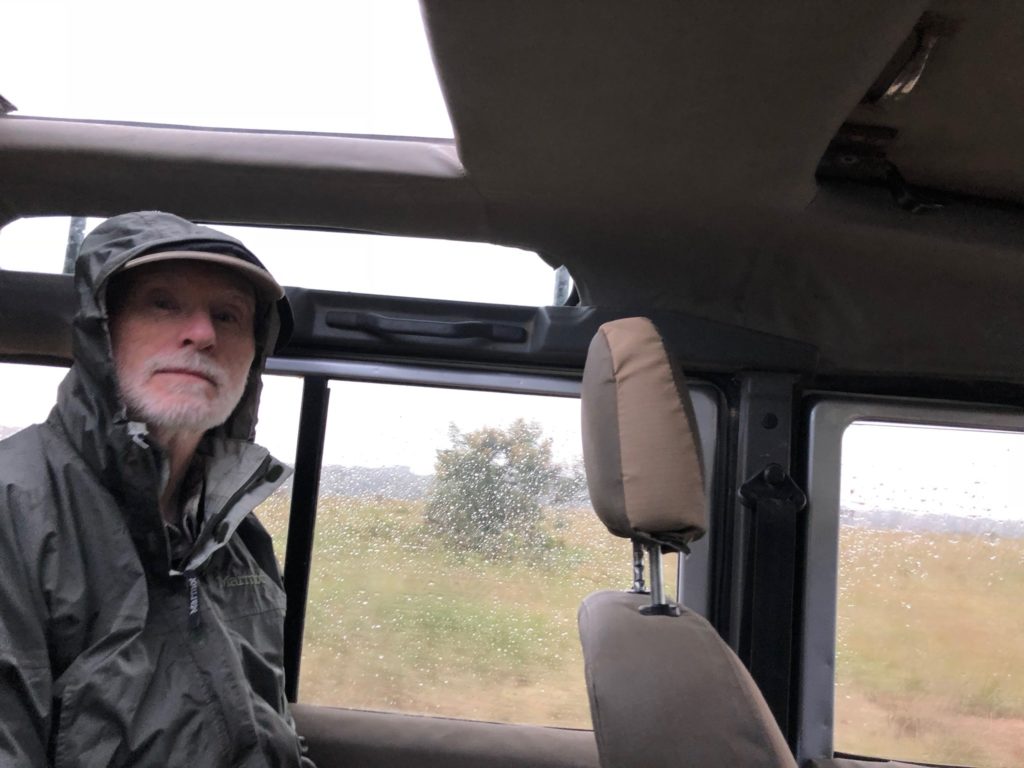 The big surprise of the day was receiving a photo from a fellow safari goer, who (accidentally?) took a photo of Steve and me as we were observing the beautiful Rothschild giraffes.  We now have photographic evidence of our safari activity.
And our feelings about the flamingos?  Well, some were present but not in the numbers we were hoping to see, but that's not a problem, since experiencing the spectacle of the flamingos was going to be just a tiny part of our adventures in Africa.