It's good to have a simple recipe in your repertoire for a tasty spread suitable for dinner, snack, or party.  And if you can prepare it in a few minutes, that's a bonus.

I found the recipe that fits the bill in Elisabeth Prueitt's book Tartine All Day.  It needs only a few ingredients.  The first time I made this spread for a birthday brunch, it was an instant hit.  If you like very garlicky food, simply increase the amount of garlic.  If you don't like goat cheese, you can use ricotta cheese instead.  If you make it and you are not using it immediately, it can be stored in the fridge, in a jar with a tight-fitting lid, up to one week.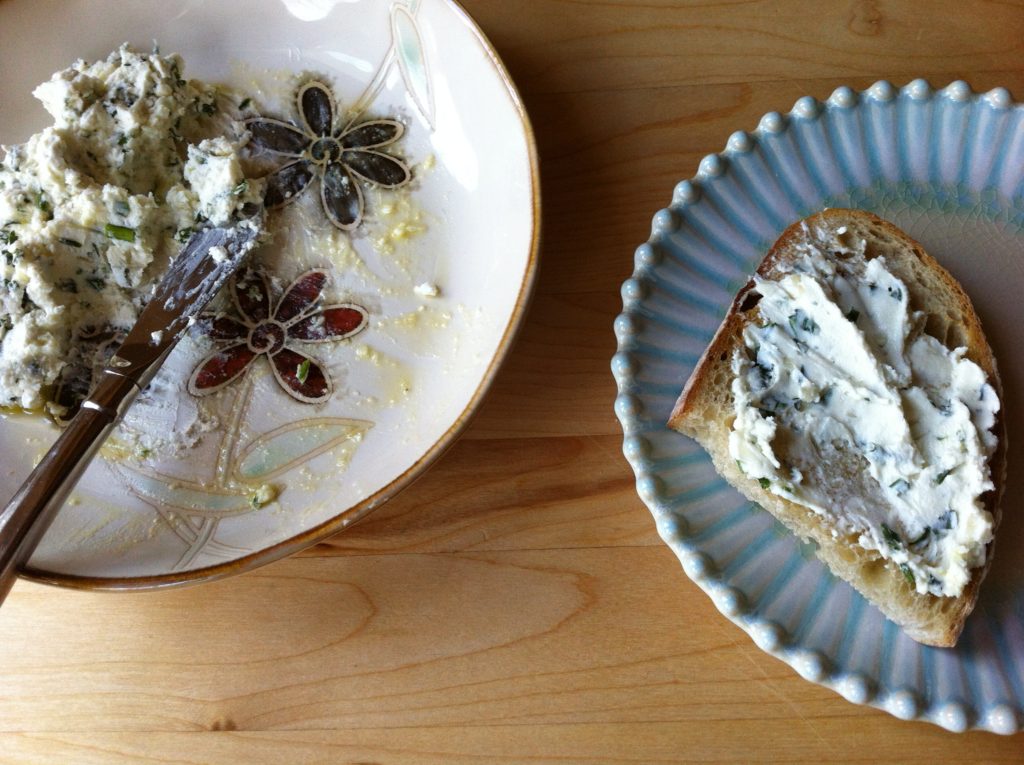 goat cheese – 230 g (8 oz)
garlic cloves, minced – 3
ground black pepper – ½ teaspoon
olive oil – 3 tablespoons
chopped mixed fresh herbs (parsley, chives, and rosemary) – 5 g (1/4 cup)
Mix together the goat cheese, garlic, pepper, 2 tablespoons of olive oil, and herbs in a bowl.  Transfer to a serving dish.  Drizzle 1 tablespoon of olive oil over the mixture.  Serve with a good quality crusty bread, toast, crackers, or vegetables.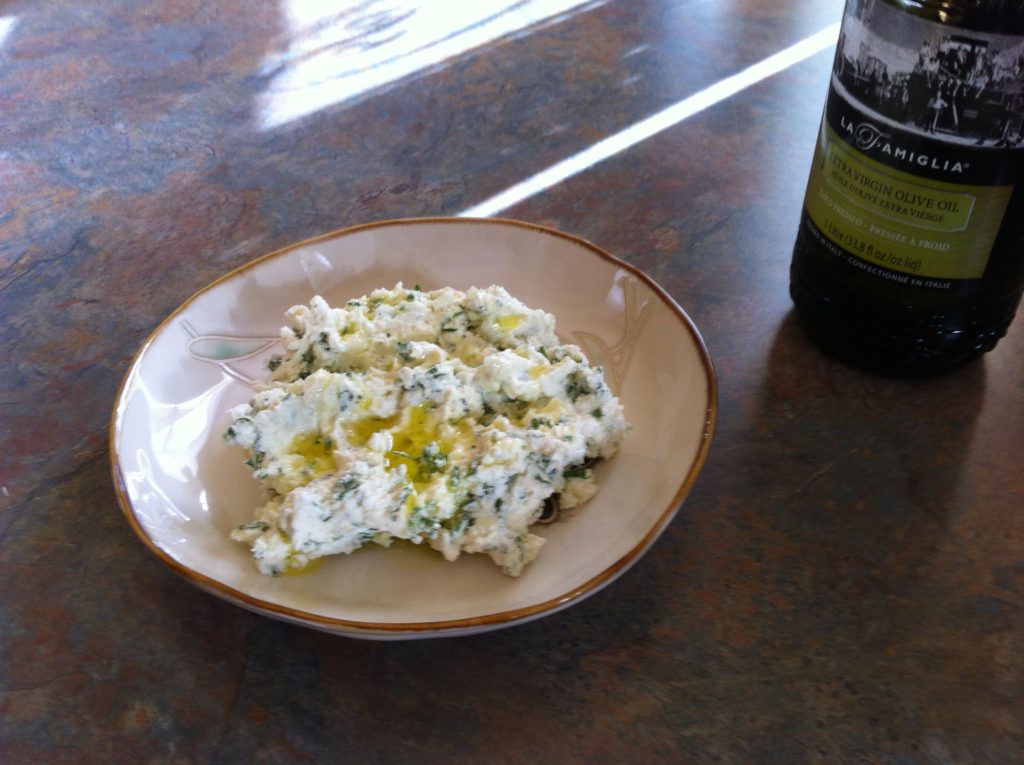 Mindig jó, ha van a repertoárunkban egy olyan recept, aminek alapján percek alatt elkészíthő egy finom kenő, amit aztán vihetünk a családi vagy a baráti bulira, kínálhatunk ebédre, vacsorára.
Nemrégiben egy ilyen receptre találtam Elisabeth Prueitt Tartine All Day című szakácskönyvében.  Csak néhány hozzávalóra van szükség, rááadásul a fokhagyma mennyisége bátran változtatható, és kecskesajt hiányában ricotta sajttal vagy túróval is készülhet ez a kenő.  Ha nem fogyna el rögtön, a hűtőszekrényben – jól záródó edényben – egy hétig is eltartható.  Én egy szülinapi brunchra készítettem el először.  Nagy sikere volt!
kecskesajt – 230 g
fokhagyma, apróra vágva – 3 gerezd
őrölt feketebors – ½ teáskanál
olíva olaj – 3 evőkanál
vegyes zöldfűszer (petrezselyem, metélőhagyma, rozmaring), finomra vágva – 5 g
A kecskesajtot, az apróra vágott fokhagymát, őrölt borsot, két evőkanál olíva olajat és a zöldfűszereket jó alaposan összekeverjük.  Tálaláskor egy mutatós tányérba szedjük, s meglocsoljuk a maradék olajjal.  Friss kenyeret, pirítóst, sós kekszet vagy zöldségszeleteket kínálunk hozzá.