Are you fascinated with Halloween? Do you want to know about its origins and history in general? Did you decorate your house? Are you having fun on Halloween? If your answer is yes, minimum twice, please click "continue reading."

Halloween's origins date back 2000 years, to a festival of ancient people, the Celts, who lived in the part of Europe which is now Ireland, the United Kingdom, and northern France. On the night of October 31st, they celebrated Samhain, the God of the Sun, and said good bye to the old year. The celebration also meant the first day of rest after the works on the fields. The Celts believed in a blurry boundary between the worlds of the living and the dead. It was a celebration of witches, ghosts, and demons. If you are intrigued, this link will take you to a site to learn more about this fun holiday.
Today, it's one of America's favorite holidays with parties, scary costumes, and lots of sweets. Children go trick-or-treating and carve pumpkins to make jack-o-lanterns. People decorate their houses and gardens, some modestly, others more elaborately. Here are a few pictures I took on my walks in our neighborhood in Seattle. Enjoy!
Érdekesnek találod a halloween ünnepét? Szeretnél tudni az eredetéről és a történelméről? Fel szoktad díszíteni a házatokat halloween alkalmából? Élvezed a halloween-i szokásokat? Ha legalább kétszer igennel válaszoltál, kérlek mindenképp olvass tovább.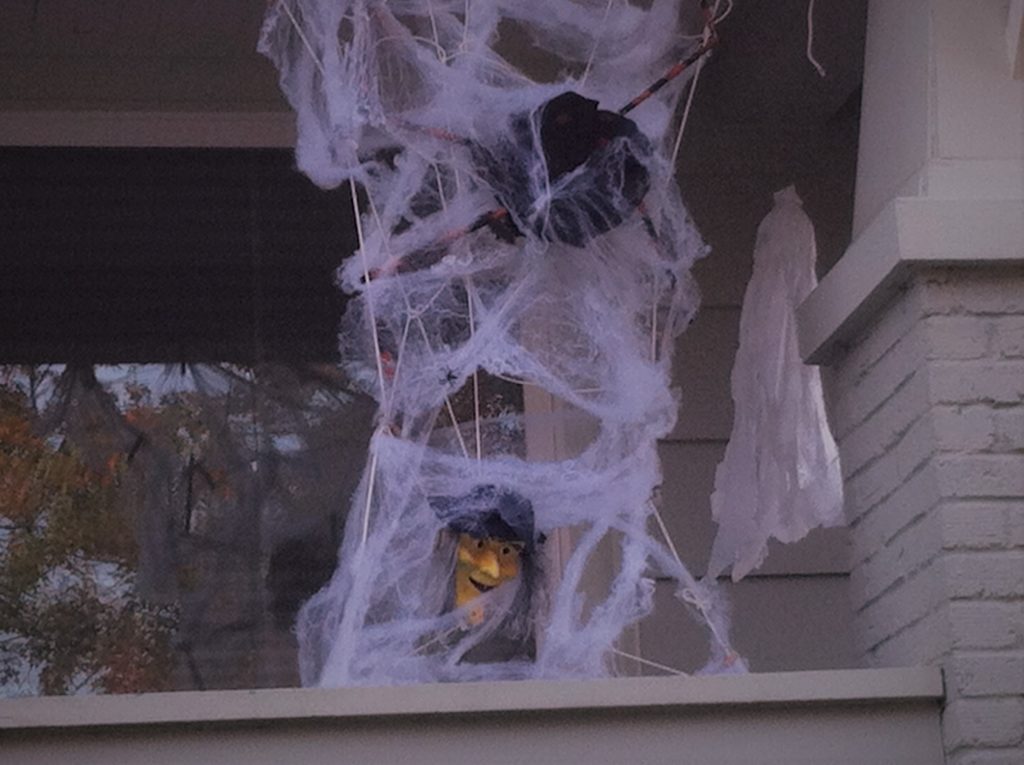 Halloween eredete 2000 évre nyúlik vissza, az ősi kelták fesztiváljára. A kelták Európa azon területén éltek, ami jelenleg Írország, Nagy Britannia és Észak-Franciaország. Október 31-e éjszakáján Samhain napistent ünnepelték, s az óévet búcsúztatták. Az ünnep a tél kezdetét és a mezőgazdasági munkák utáni pihenés első napját is jelentette. A kelták abban a hiedelemben éltek, miszerint az élők és a holtak világa között csak homályos határvonal létezik. Boszorkányok, szellemek, démonok ünnepe volt ez. (Ezen az angol nyelvű honlapon többet is megtudhatsz minderről.)
Manapság a halloween Amerika egyik kedvenc ünnepe; bulik, hátborzongató jelmezek és sok-sok édesség jellemzi. A jelmezbe öltözött gyerekek házról házra járnak, "Trick-or-treat!"- et kiáltanak, édességet várnak, s ha netán nem kapnának, holmi csínnyel fenyegetnek. Tököt is faragnak, a kifaragott tök belsejébe gyertyát vagy mécsest tesznek, vagyis vicsorgó töklámpást készítenek. Az emberek házukat és kertjüket is feldíszítik, néhányan szerényebben, mások sokkal gazdagabban. Íme néhány kép Seattle-ből. Sétáim során fotóztam a halloween jellegzetes díszítésit.