One of my favorite pastas is the traditional Hungarian cabbage pasta.  In my childhood, I always ate it with sugar, but in these days sometimes I prefer the peppered version. I serve it as a second course after a hearty soup.  It's a perfect comfort food, especially on a rainy day.

green cabbage – 2¼ pounds (1 kg)
salt – a pinch
granulated sugar – 2 tablespoons
oil – 2 tablespoons
square-shaped pasta (or other flat egg pasta) – 1 pound (454 g)
pepper or sugar for serving – to taste
Cut the cabbage into wedges and grate them.  Place the cabbage into a bowl, sprinkle with salt, and leave to stand for 20 minutes.  Heat the oil in a large saucepan, add the sugar, and cook – stirring constantly – until it melts and turns light brown (you are caramelizing it).  Remove surplus moisture from the cabbage by squeezing handfuls of it, then add to the pan.  Stir-fry (on high heat) until brown.
Cook the pasta according to package directions in boiling salted water, drain, then combine with the cabbage.  Fry a little more (about 10-15 minutes) either on the stovetop or in the oven (on 430 ˚F).  To serve, grind some pepper on top, or sprinkle with some sugar if you want it sweet.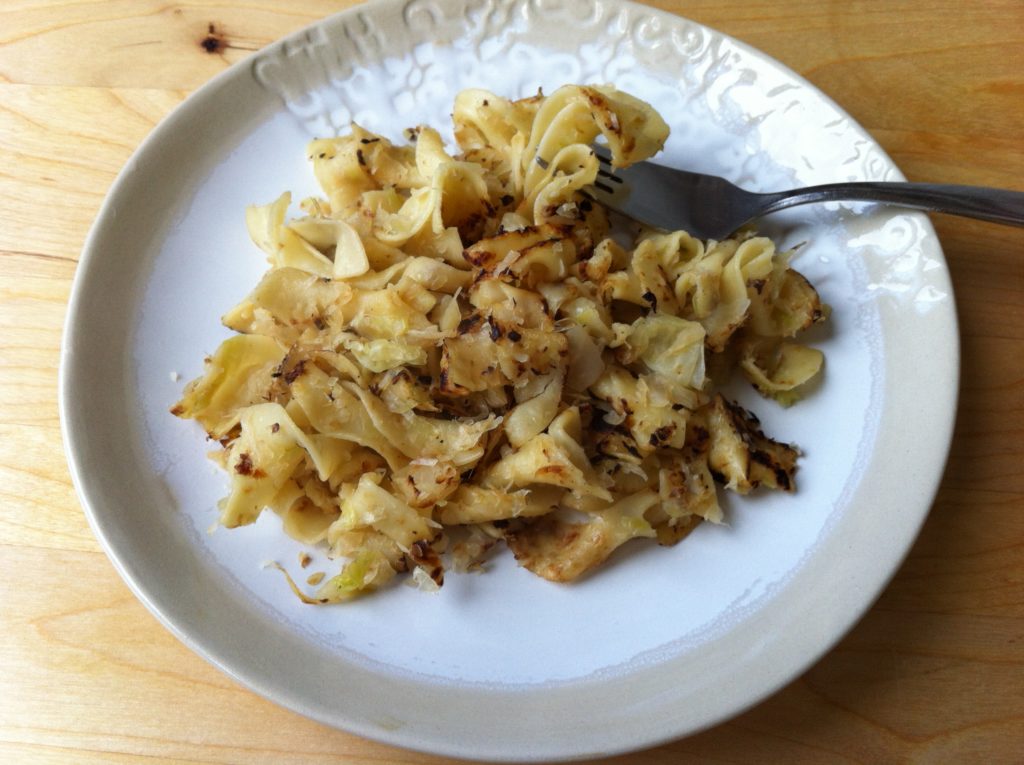 Az egyik kedvenc tésztafélém a hagyományos káposztás tészta, azaz káposztás cvekedli.  Gyerekkoromban mindig cukorral ettem, mostanság néha a borsos változatot részesítem előnyben.  Második fogásként ajánlom tartalmas levesek után.  Ez egy lélekmelengető, laktató étel, különösen esős napokon.
fehérkáposzta – 1 kg
só – egy csipet
olaj – 2 evőkanál
kristálycukor – 20 g
nagy kockatészta  – 454 g
őrölt feketebors vagy cukor tálaláshoz – ízlés szerint
A káposztát negyedekbe vágjuk, egy tálba reszeljük, besózzuk és 20 percig állni hagyjuk.  Egy nagyobb lábasban az olajon világosbarnára pirítjuk a kristálycukrot (karamellizáljuk), majd rátesszük a lereszelt és enyhén kinyomkodott káposztát.  Folyamatosan kevergetve erős tűzön addig prirítjuk, amíg az összes víz el nem párolog, s a káposzta szép barna színt nem kap.
A kockatésztát forrásban levő vízben kifőzzük, leszűrjük, majd összekeverjük a káposztával.  Egy serpenyőben a tűzhelyen (esetleg a sütőben 220 ˚C-on) 10-15 perc alatt átsütjük.  Tálaláskor meghintjük őrölt feketeborssal vagy kristálycukorral.