Get creative in your kitchen.  How?  Gather a few good quality ingredients from your pantry, fridge, and freezer, and throw them together.  Experiment.  Use your imagination.

Prepare a delicious pasta dish.  No recipe needed.  Cooking doesn't need to be complicated – often the simplest food is the best.  Today I made a quick dinner using mainly frozen ingredients because nothing else was available.  Of course, fresh vegetables would have been fantastic.  I only eyeballed the amount of ingredients.  Let's first see them, then the method.
whole wheat spaghetti, olive oil, frozen pearl onions, frozen bell pepper strips, oven-dried organic tomatoes in olive oil, frozen peas, frozen mini meatballs, basil pesto, salt, ground black pepper, shredded cheese
Cook a bag of spaghetti (17 oz) in boiling salted water, then drain in a colander under running water.  In a covered large skillet, cook a bag of pearl onions (16 oz), some bell pepper strips, tomatoes, peas, and meatballs in a little olive oil until tender, stirring occasionally.  Meanwhile, preheat the oven to 400 °F.  Put the drained pasta in a large mixing bowl, toss with some pesto and pasta water.  Add the cooked vegetables and meatballs, toss everything together, season with salt and pepper, and transfer to a baking dish.  Sprinkle with some shredded cheese.  Bake for about 20-25 minutes, until the top is lightly golden.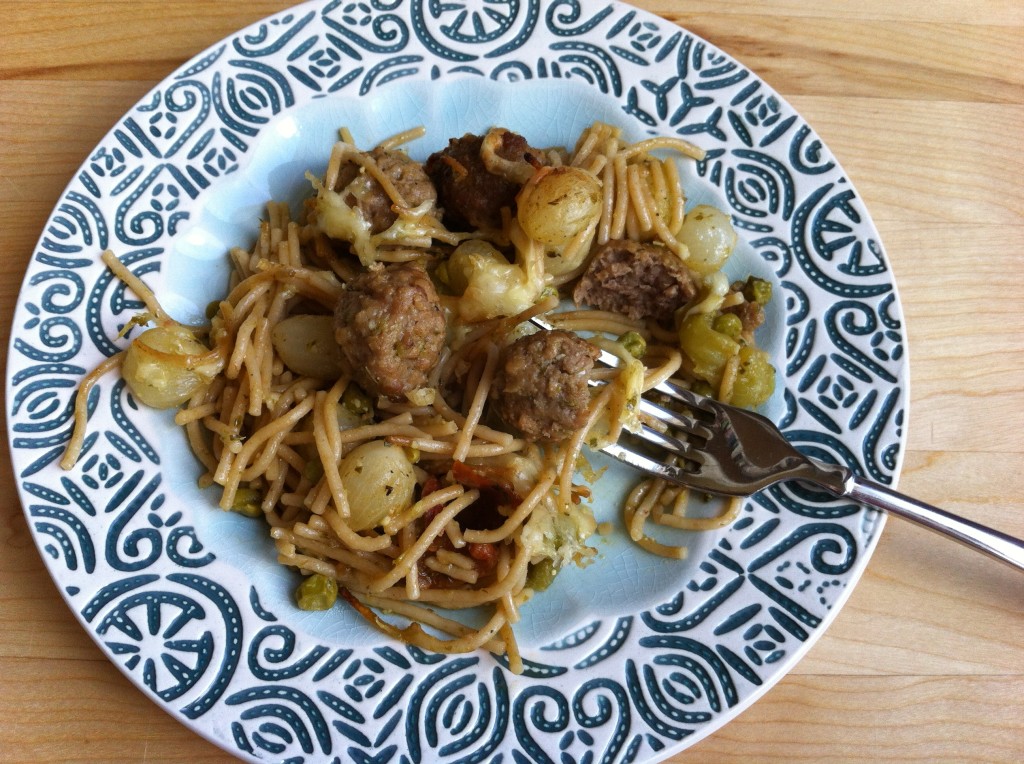 Légy kreatív a konyhádban.  Hogy hogyan?  Szedj össze néhány jó minőségű hozzávalót a spájzból, hűtőből és a fagyasztóból, s dobj össze egy egyszerű ételt, például valami tésztafélét.  Kísérletezz.  Használd a fantáziádat.  Nincs szükség semmiféle receptre.  A főzés nem kell hogy bonyolult legyen – gyakran a legegyszerűbb étel a legfinomabb.  Ma este gyors vacsorát főztem főleg fagyasztott hozzávalókból, mert nem volt más itthon.  Persze friss zöldség kitűnő lett volna.  A mennyiségeket csak megsaccoltam.  Lássuk előbb a hozzávalókat, majd a munkamenetet.
teljes kiőrlésű spagetti, olívaolaj, fagyasztott gyöngyhagyma, fagyasztott paprikadarabok, olajban eltett aszalt paradicsom, fagyasztott borsó, fagyasztott pici húsgombócok, bazsalikompestó, só, őrölt feketebors, reszelt sajt
Forrásban levő enyhén sós vízben kifőzünk egy csomag spagettit (500 g), majd leszűrjük.  Egy nagy lábasban kis mennyiségű olívaolajban, fedő alatt puhára főzünk egy zacskó (450 g) gyöngyhagymát, tetszés szerinti mennyiségű fagyasztott paprikadarabot, aszalt paradicsomot, fagyasztott borsót, fagyasztott húsgombócot.  Néha megkevergetjük.  Közben előmelegítjük a sütőt 200 °C-ra.  A leszűrt spagettit összekeverjük néhány kanálnyi pestóval és egy kevéske főzőlével.  Hozzáadjuk a zöldségeket és a húsgombócokat, midezt jól elkeverjük, sózzuk, borsozzuk, s egy nagy tűzálló tálba tesszük.  Megszórjuk reszelt sajttal.  Kb. 20-25 perc alatt készre sütjük.