There were no fanfares, no fireworks, not even cakes.  But it was a celebration.  It actually all started on Friday, a day earlier, waking up to snow.  We had an unexpected snow day – a leisurely day of reading, relaxing, and eating too many cookies.

The snow didn't last too long but the mood was set.  Let's go and explore downtown Seattle, see the Christmas lights, possibly have dinner outside of our home.   And that's exactly what we did celebrating the first official day of my two week long Christmas break.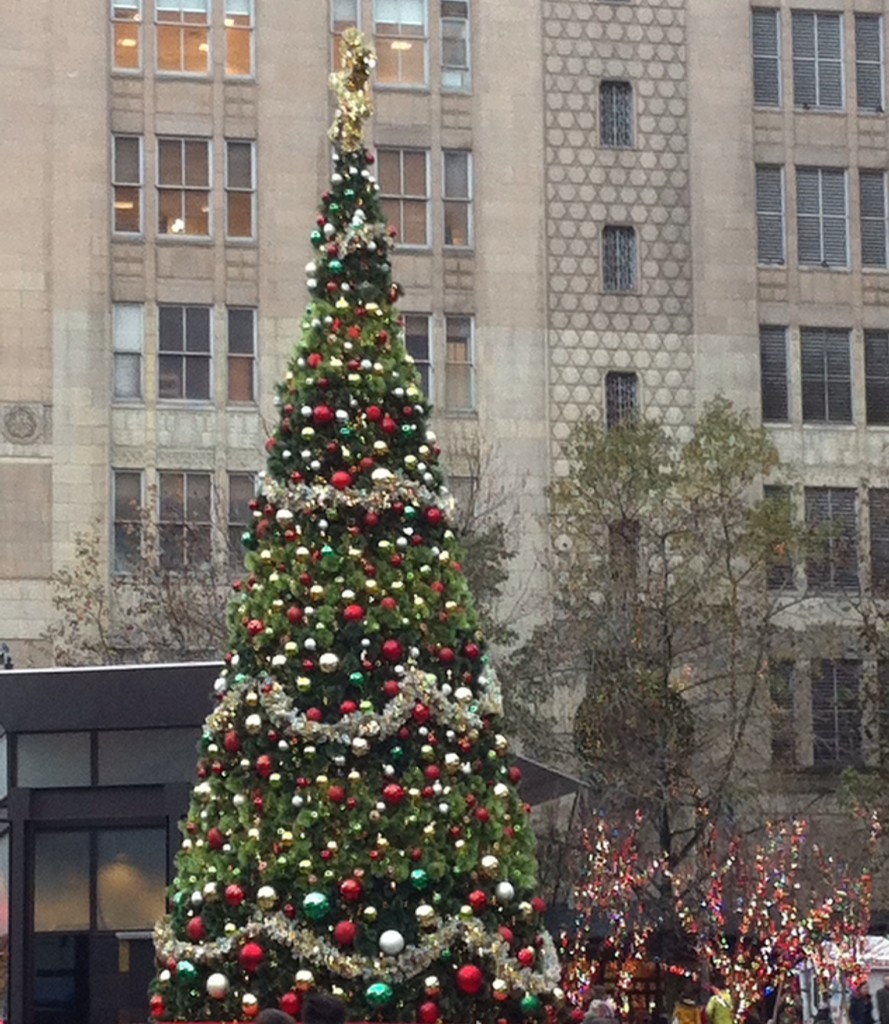 Too many people on 4th Avenue, including a huge number of Santas going from pub to pub.  Festive Christmas tree in front of Westlake Center and the star on the top of Macy's department store.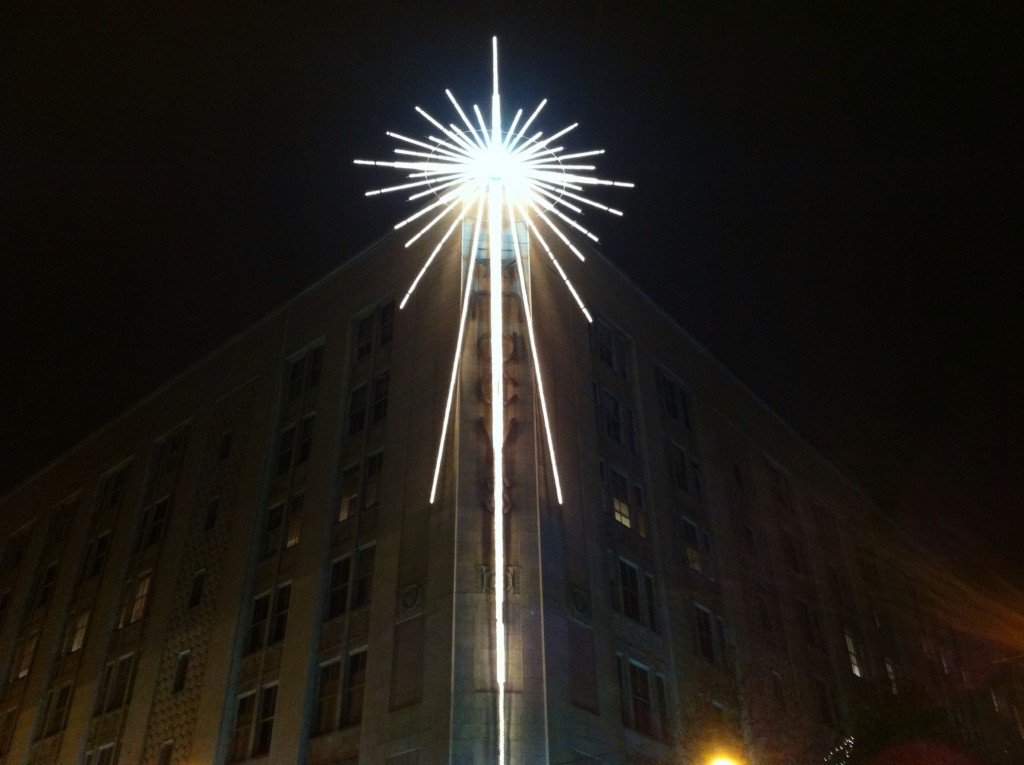 Rain and fog, ferries and the Ferris wheel on the waterfront.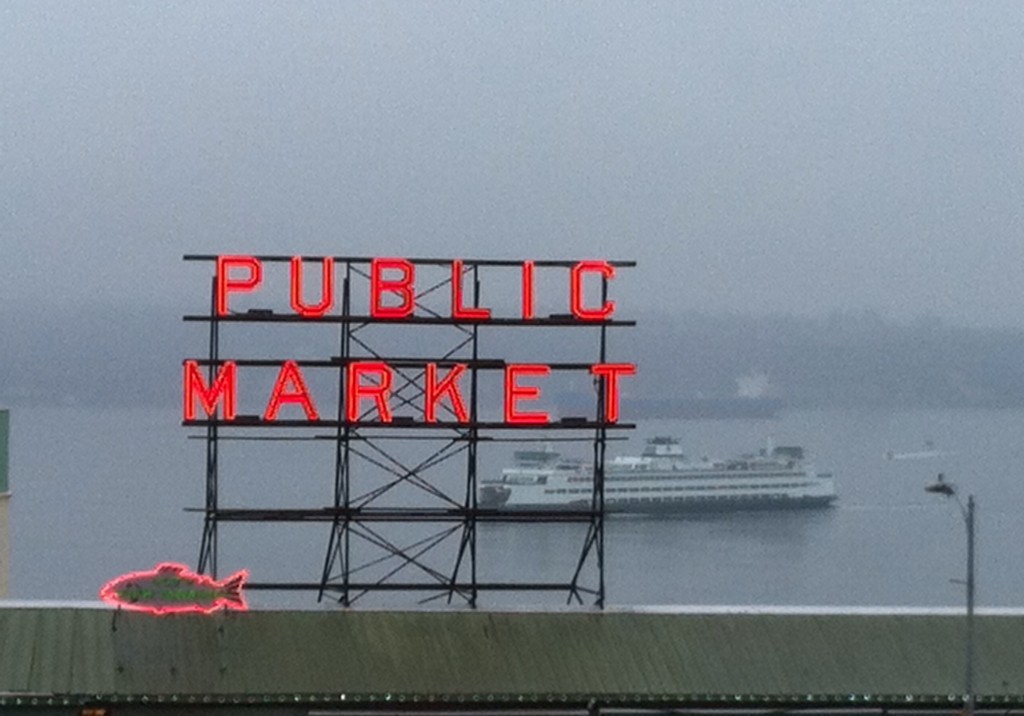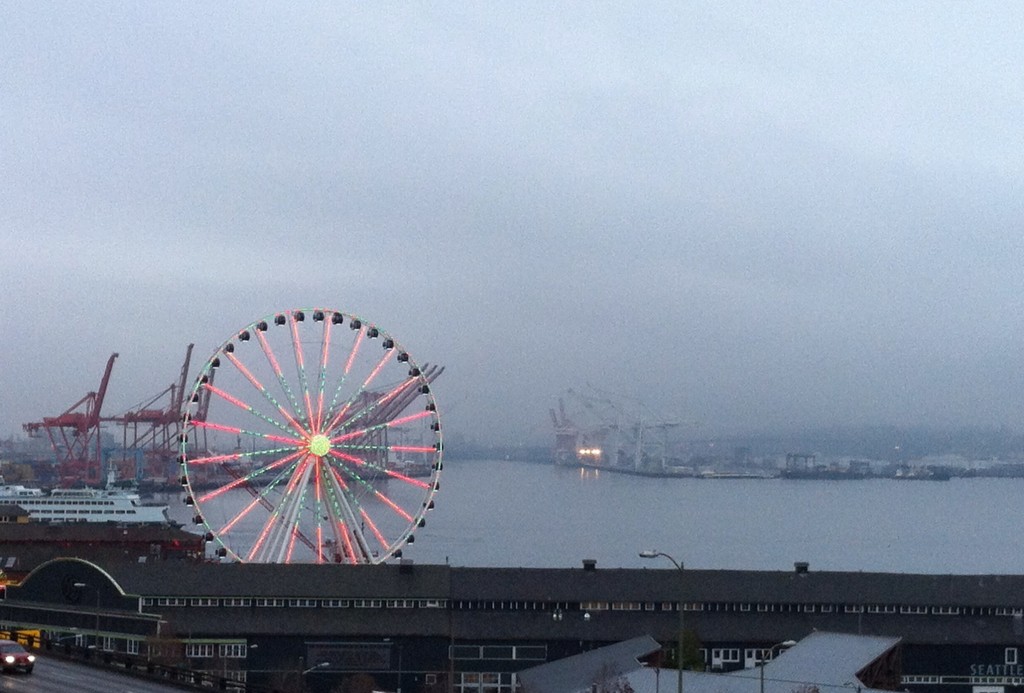 The wintry historic Pike Place Market (bouquets of dried flowers, Christmas centerpieces, warm scarves, and honey), and lights and lights everywhere.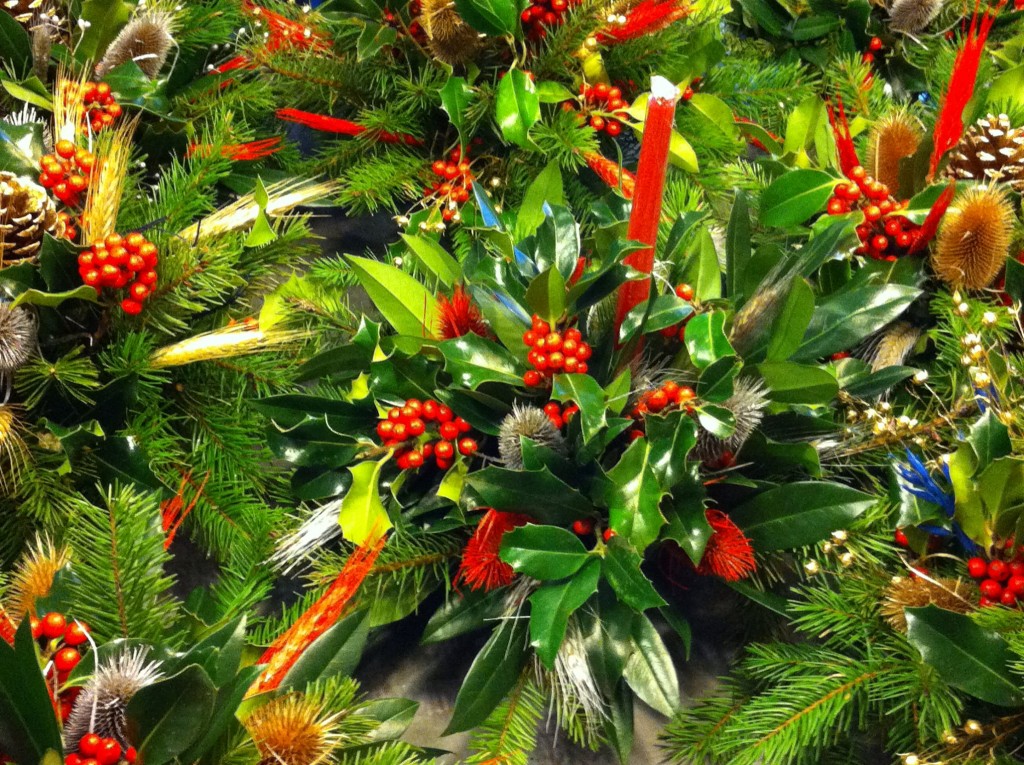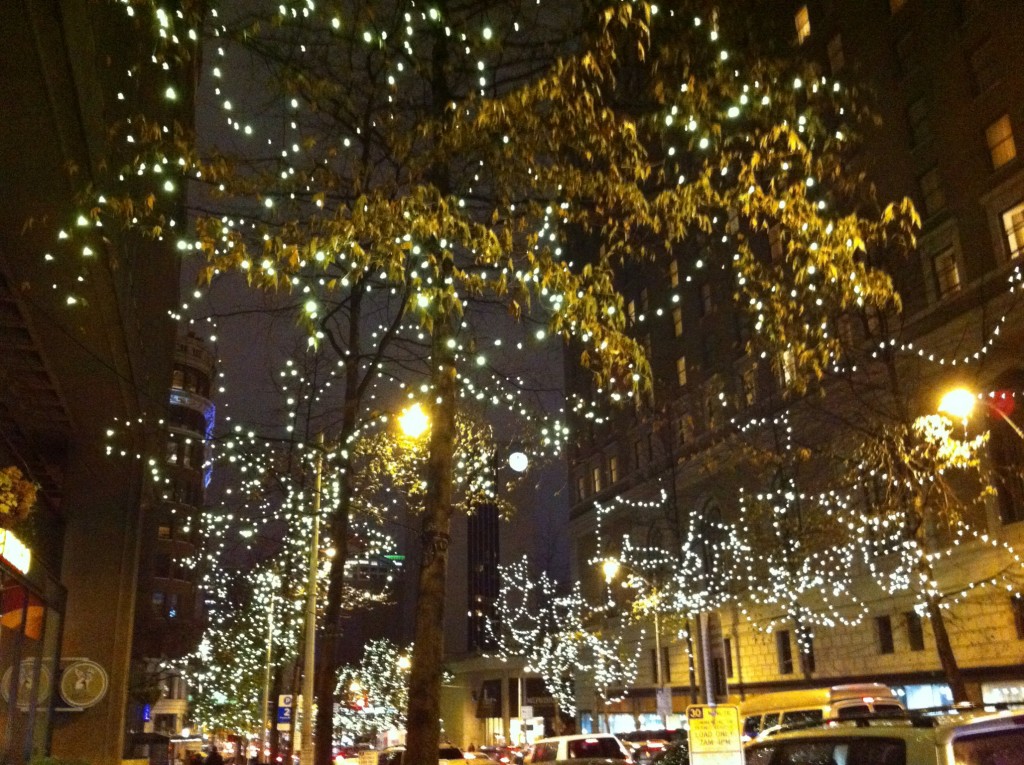 The highlight of the afternoon was visiting two of my favorite stores, Watson Kennedy Fine Living and Watson Kennedy Fine Home.  We bought a book at the first and had a lovely little chat with Ted, the owner, then left for the second to purchase some gourmet food.  Stay tuned for more about these wonderful shops.  Until then, check out  Watson Kennedy online.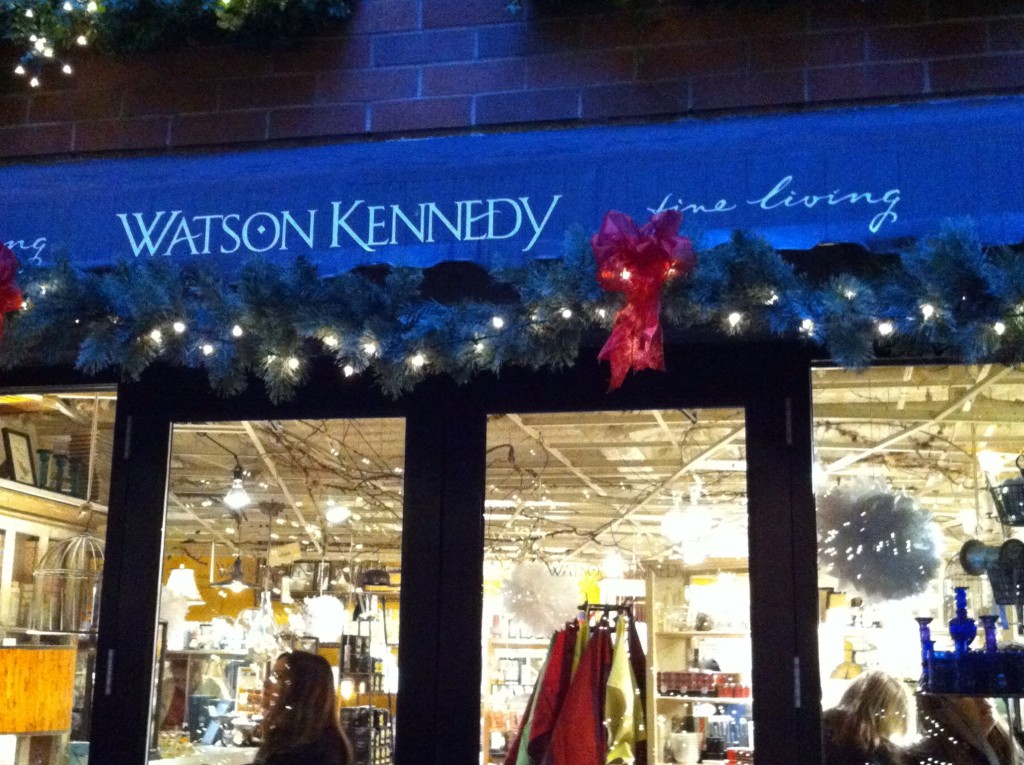 For dinner, we made it to Delancey, a pizza restaurant in Ballard, where the view of the flames of the wood-fired oven from our seats at the counter together with the taste of our pepperoni pizza added to the warmth of the feelings about a good day spent.
And I shouldn't forget to mention the mysterious lights on the Space Needle and the Christmas lights on houses in the neighborhood.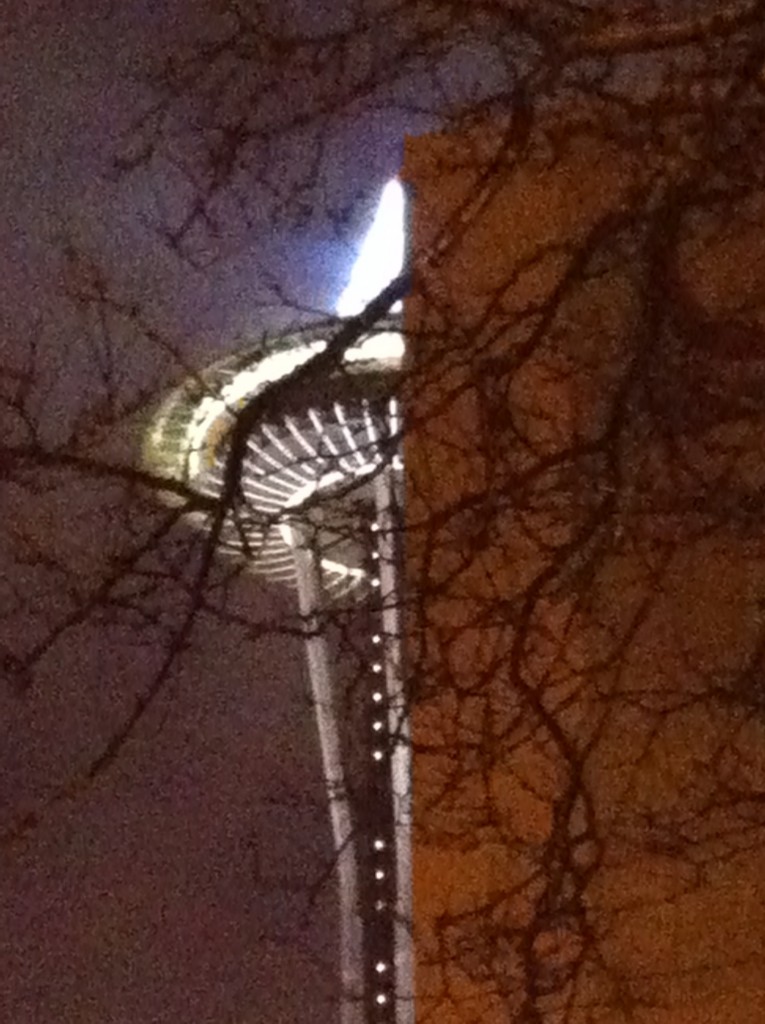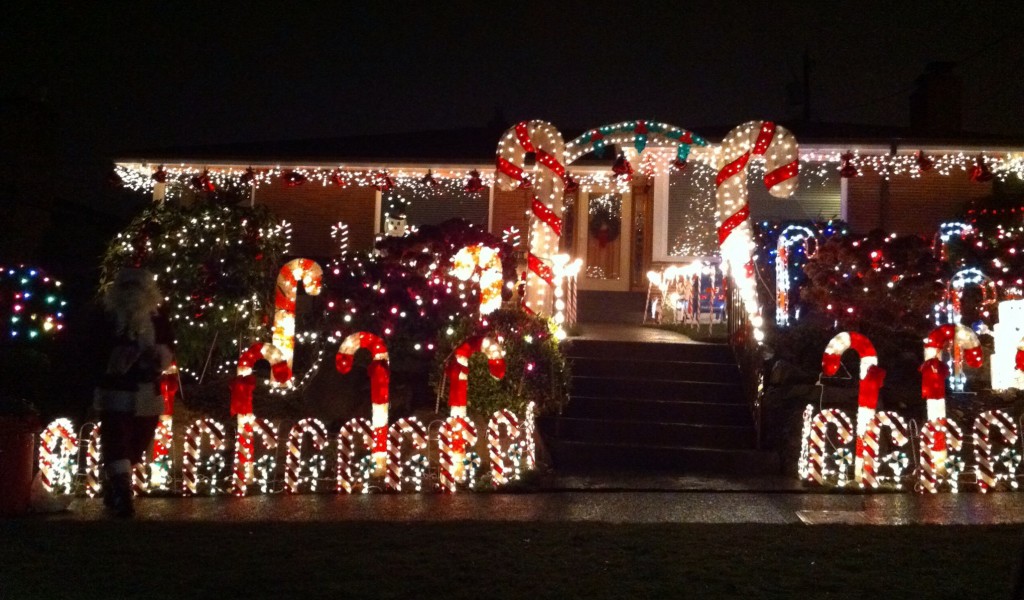 Nem szóltak fanfárok, nem volt tűzijáték, sőt tortát sem szolgált fel senki.  Ennek ellenére ünnepre sikeredett ez a nap.  Valójában mindez már pénteken kezdődött, egy nappal korábban, amikor reggel havazásra ébredtünk.
Egy váratlan szabadnapot kaptunk az iskolában a lehullott hó miatt.  Mindenki otthon maradhatott, hogy olvasson, pihenjen és túl sok sütit fogyasszon.  A hó nem maradt meg sokáig, de kedvcsinálónak elég volt.  Mi lenne, ha kirándulnánk a saját városunkban?  Megcsodálhatnánk Seattle belvárosának karácsonyi fényeit, s vacsorázhatnánk akár vendéglőben is.  Így is történt.  Megünnepeltük a két hétig tartó karácsonyi szünet első napját.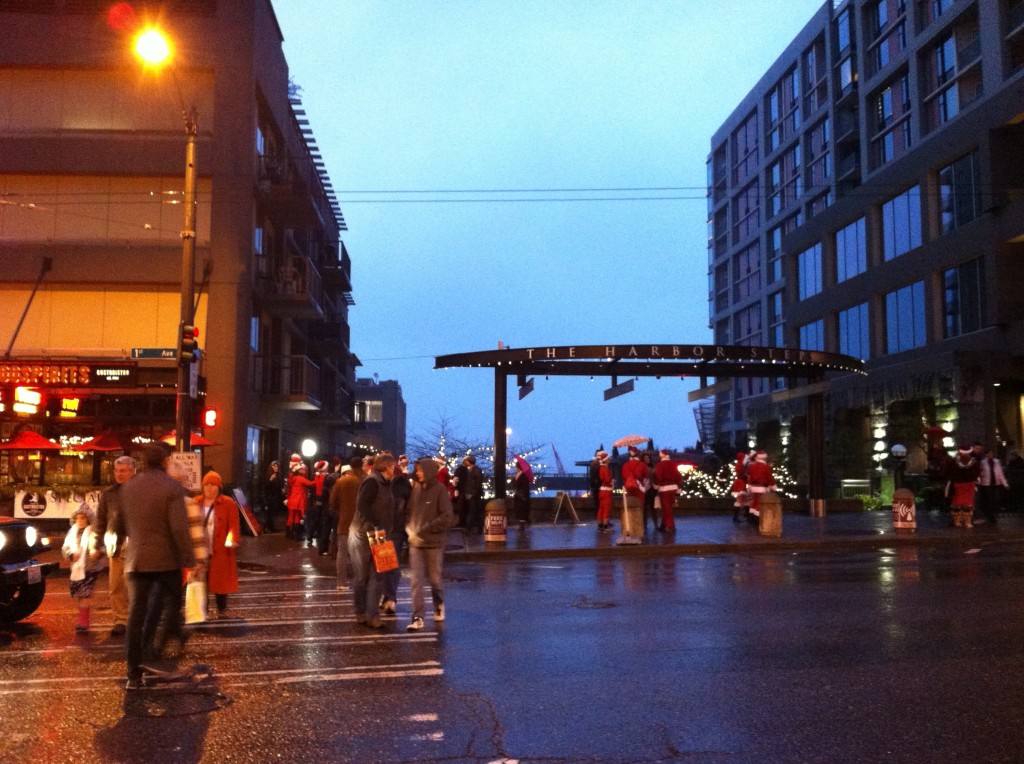 Rengeteg ember tolongott a Negyedik sugárúton, egy csomó Mikulást is beleértve, akik – egy itteni szokáshoz híven – kocsmáról kocsmára járva ünneplik a karácsony közeledtét.  A Westlake Center pláza előtt egy hatalmas karácsonyfa pompázott, a Macy's ruhabolt tetejére már feltették a nagy és fényes csillagdíszt, az eső is esett és ködös volt a levegő, egy komphajó épp kikötni készült az óriáskerék közelében.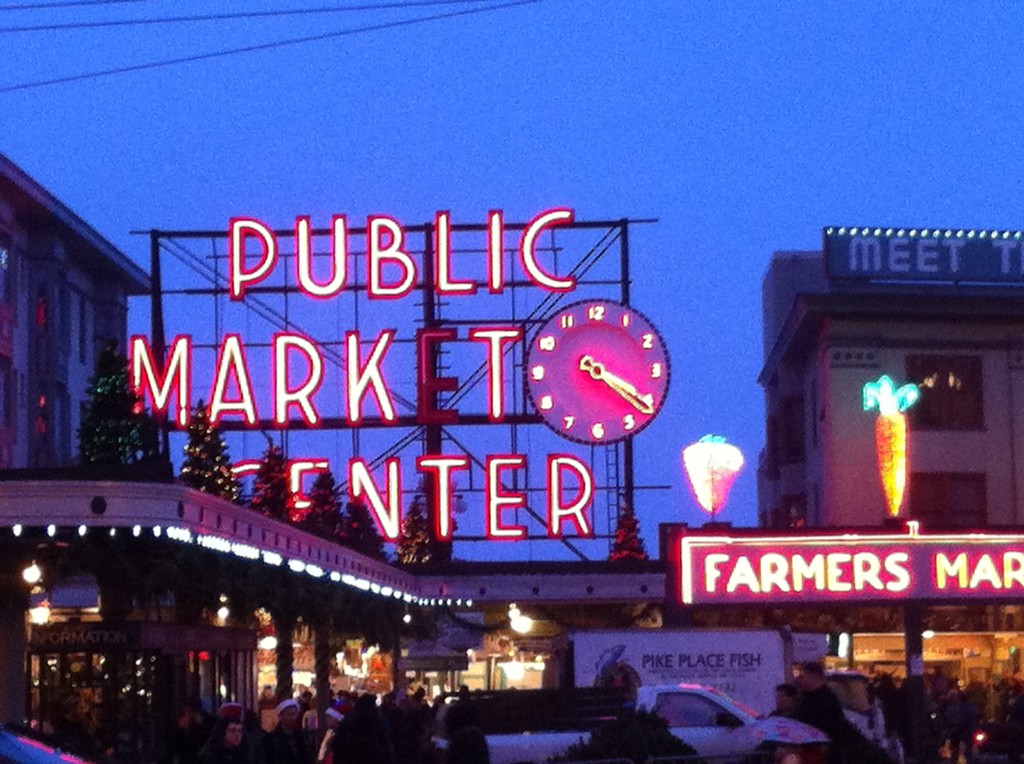 A történelmi Pike Place Market (a nagypiac) varázslatos téli hangulatához hozzájárult a sok-sok szárított virágból készült csokor, a karácsonyi asztaldíszek, meleg sálak, édes mézzel telt üvegek látványa.  Karácsonyi fényben úszott az egész belváros.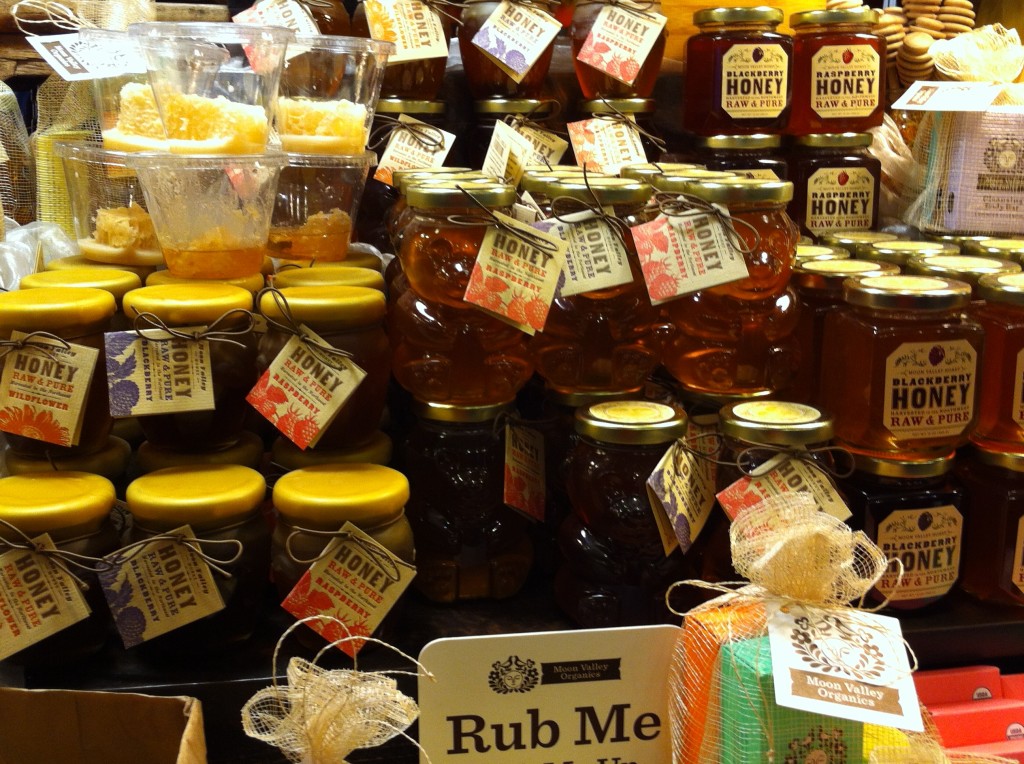 A délután fénypontjaként aztán benéztünk két kedvenc boltomba.  A Watson Kennedy Fine Living és a Watson Kennedy Fine Home ajándékboltokat majd mindenképp szeretném bemutatni ezen a fórumon, addig csak annyit, az elsőben elbeszélgettünk egy kicsit a tulajdonossal, Teddel, aztán vettünk egy könyvet, a másikban meg néhány ínyencség került a kosarunkba.  Íme a link Ted online boltjához: Watson Kennedy online store.
Este a Delancey pizzériában vacsoráztunk, ami egy divatos hely a Ballard nevű városrészben.  A helyünkről ráláttunk a fatüzelésű kemence lángjaira, s finom szalámis pizzát rendeltünk.  Mindez hozzájárult ahhoz, hogy felejthetetlenné tegye számunkra ezt a napot.  El ne felejtsem megemlíteni a Space Needle körüli misztikus fényeket és a karácsonyi fényárban úszó családi házakat.