From the moment I discovered Nigel Slater's cookbooks, his TV-show on BBC, and his recipes in The Guardian, I was hooked.  I like his writing a lot.  I like his style of talking about food, but most importantly, the simplicity of his recipes.  I started creating and re-creating what I read, and what I watched online.

Making puff pastry at home is something I still need to master.  In order to make these, I got some frozen puff pastry from the grocery store, defrosted it according to the directions on the packaging, and the cooking began.  The recipe comes from Ripe.  It's perfect as it is, so I didn't change the amount of ingredients, which is enough for four people, but for my actual cooking I used less pastry, less apples, and less cheese, eyeballing the amount of apple and cheese.  I still made 4 puffs.  They were delicious both warm (for dinner) and cold (for next day's lunch).
puff pastry – 500 g (1 pound)
apples – 400 g (14 ounces)
half a lemon – just the juice
blue cheese – 175 g (6 ounces)
egg – 1
salt and pepper to taste
Preheat the oven to 200 °C (400 °F).  Line a bigger baking pan with parchment paper (you will need to fit four disks on it) or use a non-stick roasting pan.  If the puff pastry looks thicker, roll it out thinly and cut out eight disks from it.  Place four of them on the baking pan and put four of them aside.  As a template for cutting a circle, you can use a small plate (square shaped puffs would work too).
Pour the lemon juice in a small bowl.  Prepare the apples: peel them if you like (I didn't do it), core them, cut them into small thin slices, and place them into the lemon juice to prevent discoloring.  Cut the blue cheese into small cubes (I used Gorgonzola).  Mix the apple slices with the cheese in a bigger bowl.  Season with salt and pepper.  Divide the apples between the four puff pastry disks, but leave the edges free of the filling.  Beat the egg, then brush the edges of the disks.  Because you need to cover the filling, roll out the remaining four pastry disks for a little bit bigger size.  Place them over the apples.  To have tightly sealed puffs, press together the edges well, and brush the top with the remaining egg.  Bake for approximately 20 minutes.  Cool slightly before eating.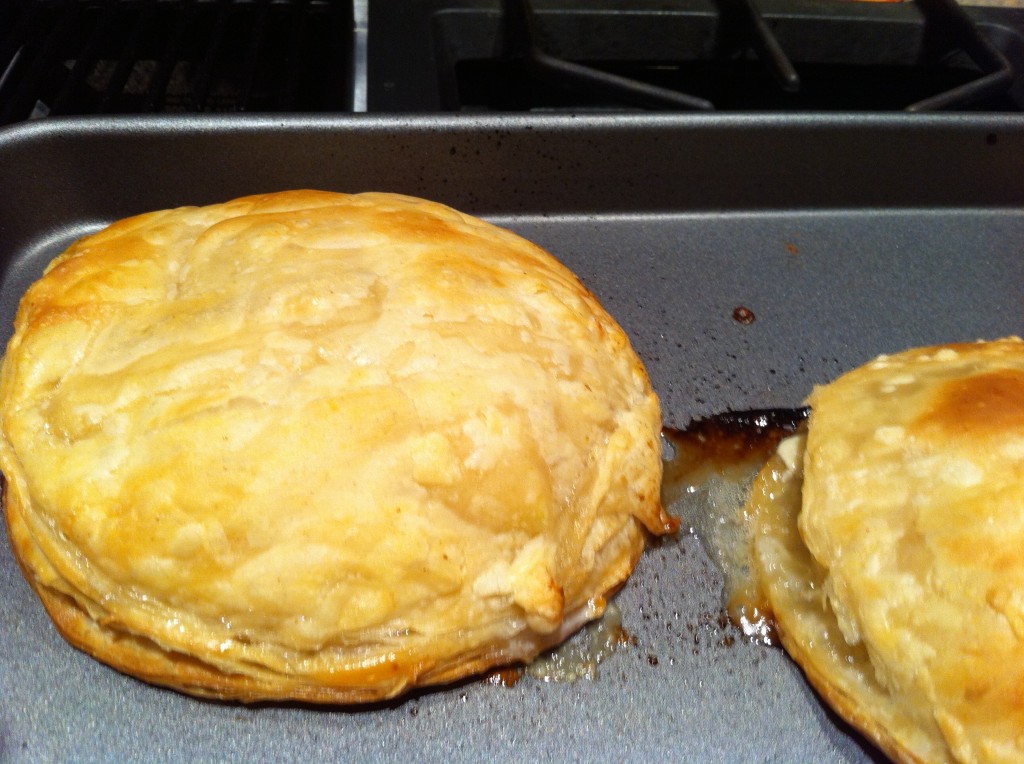 Attól kezdve, hogy felfedeztem Nigel Slater szakácskönyveit, tv–műsorát a BBC–n, s receptjeit a brit "The Guardian" napilapban, tudtam, megtaláltam egyik kedvencemet.  Nagyon tetszik ahogy ír.  Tetszik a stílusa, ahogy a főzésről beszél, de ami a legfontosabb, tetszik a receptek egyszerűsége.  El is kezdtem főzni és sütni a receptjei alapján.
Leveles vajas tészta készítése otthon – nos, ez még várat magára.  Ezt még meg kellene tanulnom.  Addig is a boltban vásárolt remek mélyhűtött is megteszi.  Csak felengedi az ember, s már kezdődhet is a főzés.  Ez a recept, amit most közzéadok, a "Ripe" című szakácskönyből való.  Úgy tökéletes, ahogy le van írva, így aztán közlöm a négy személyre szóló mennyiségeket, de én kevesebb tésztát, kevesebb almát és kevesebb sajtot használtam.  Így is sikerült négy párnát készítenem.  Ráadásul nem is méricskéltem, csak megsaccoltam az alma és a sajt mennyiségét.  Finom volt az étel vacsorára még úgy melegen és másnap is ebédre, ekkor szobahőmérsékleten.
leveles vajas tészta – 500 g
alma – 400 g
fél citrom leve
kéksajt – 175 g
tojás – 1
só és bors ízlés szerint
A sütőt előmelegítjük 200 °C-ra.  Egy tepsit, amire ráfér négy tésztapárna, kibélelünk sütőpapírral (de teflon sütőedényt is használhatunk).  A mélyhűtött leveles tésztát felengedjük, ha vastagnak tűnne, vékonyabbra nyújtjuk, majd egy kistányér segítségével nyolc egyenlő kört vágunk ki belőle (de négyzetekre is vághatjuk).  Négyet a tepsire teszünk, négyet a deszkán hagyunk.
A citrom levét egy kisebb tálba facsarjuk.  Meghámozzuk az almákat (én rajta hagytam a héját), kivágjuk a magházukat, majd apróra, vékonyra szeleteljük és a citromlébe tesszük, hogy ne barnuljon meg.  A kéksajtot kis kockákra vágjuk (én gorgonzolát használtam).  Egy nagyobb tálban összekeverjük a citromléből kivett almát és a sajtot, ízlés szerint sózzuk, borsozzuk.  A tölteléket szétosztjuk a négy tésztalapocska között, kis üres helyet hagyva a széleken.  Egy kis tálban felverjük a tojást, s megkenjük vele a tészta szélét (a töltelék körül).  A deszkán hagyott négy tésztalapot picit nagyobbra nyújtjuk az alsóknál, s befedjük velük az almatölteléket.  A széleken jól lenyomkodjuk, hogy a párnák jól lezáródjanak.  Tetejüket megkenjük a maradék tojással és kb. 20 percig sütjük.  Tálalás előtt kicsit kihűtjük.