Are you still eating spaghetti with only tomato sauce? For variety, try this version made with leafy greens, such as spinach, kale, arugula, collard greens, chard, lettuce, radish leaves – individually or mixed.

I used a mixture of kale, arugula, and lettuce. The beauty and one of the benefits of this dish is that you can use any kind of pasta and any kind of leafy greens. The other benefit is that your food can be on your table quickly.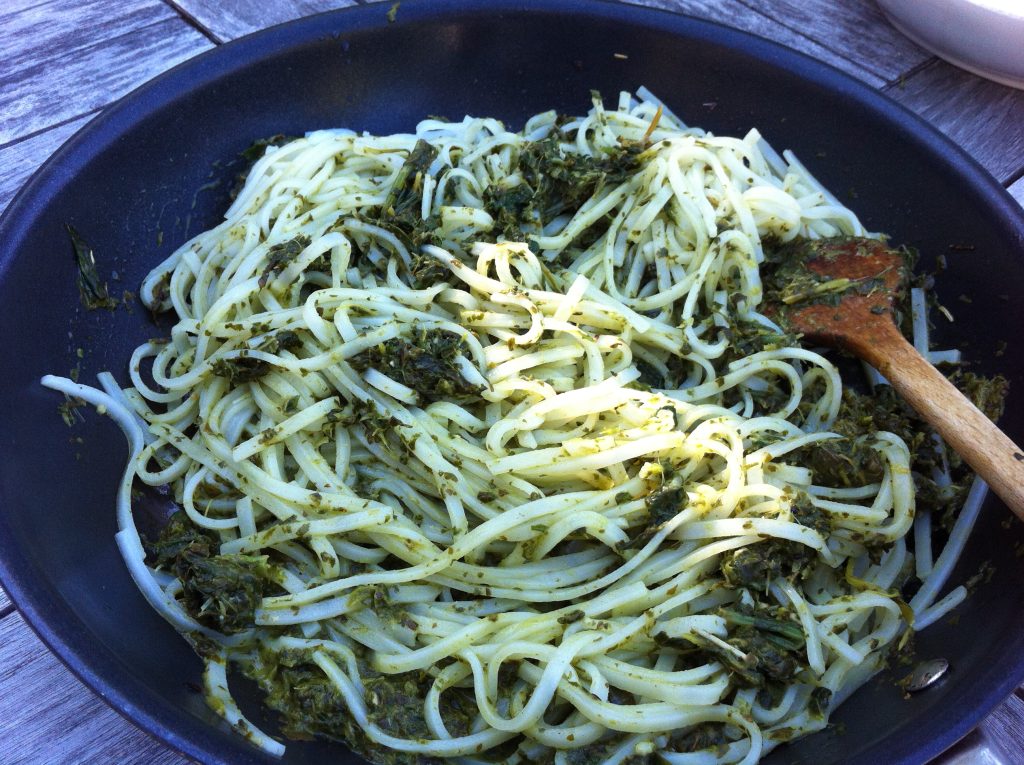 Let's first see the ingredients, then the preparation method.
whole wheat spaghetti (500 g/17 oz), olive oil, 2 garlic cloves, red pepper flakes (a pinch), leafy greens (about 400 g/1 lb), 1 lemon, sea salt, ground black pepper, grated cheese
Cook a bag of spaghetti in boiling salted water, then drain in a colander under running water.
Meanwhile, rinse and chop the leafy greens, removing any big stems if necessary. Peel and finely slice the garlic cloves. Heat a drizzle of olive oil in a large pan, add the garlic and the red pepper flakes, and sautée for 1-2 minutes. Add the chopped greens, and sautée for a few minutes until they have wilted a little bit. Into it, grate the zest of lemon, squeeze in its juice, and season with salt and ground black pepper.
Add the spaghetti to the greens. Mix well. Sprinkle with some cheese.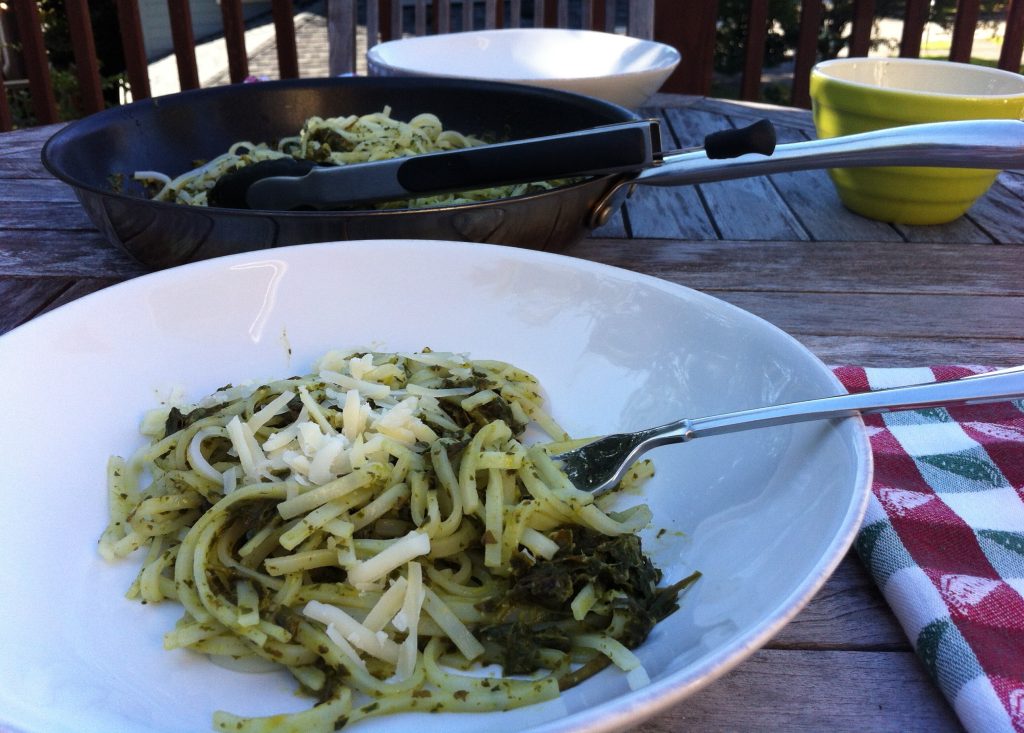 Ha a spagettit még mindig csak paradicsommártással tálalod, ideje kicsit újítani. Próbáld ki ezt a zöldséges változatot, ami remekül variálható. Használhatsz spenótot, kelkáposztát, rukkolát, mángoldot, reteklevelet, salátát – csak egyfélét vagy éppen vegyesen, a kedved szerint. Én most kel, rukkola és saláta keverékét használtam. Ennek az ételnek az az előnye és szépsége, hogy bármilyen tésztafélével és bármilyen leveles zöldséggel finom. A másik nagy előnye, hogy az étel gyorsan az aztalra kerül.
Lássuk előbb a hozzávalókat, majd a munkamenetet.
teljes kiőrlésű spagetti (500 g), olívaolaj, 2 gerezd fokhagyma, egy csipet szárított paprika pehely, leveles zöldségek (kb. 400 g), 1 citrom, tengeri só, őrölt feketebors, reszelt parmezán sajt
Forrásban levő, enyhén sós vízben kifőzzük a spagettit, majd leszűrjük.
Közben leöblítjük a leveles zöldségeket, lerázzuk róluk a vizet, összevagdaljuk, eltávolítjuk a vastag, hosszú zöldségszárakat. Megtisztítjuk a fokhagymát és vékonyan felszeleteljük. Egy mélyebb lábasban felhevítjük az olajat, megfonnyasztjuk benne a fokhagymát és a paprika pelyhet (1-2 perc). Hozzáadjuk a leveles zöldségeket. Pár percig pároljuk, hogy a levelek kissé összeessenek. Belereszeljük a citrom héját, belefacsarjuk a citrom levét, majd ízlés szerint sózzuk, borsozzuk.
A zöldségekhez adjuk a spagettit. Lazán összekeverjük, majd megszórjuk reszelt sajttal.